2019 Activity Reports. Excluding Weekly Activities, Senior Elastix, Short Mat Bowls & Tai Chi.
If you were there you can Reminisce
If you were not there you will know what you Missed
If your NOT a member you can see what you're Missing! - Contact Addrienne Lawrence for membership enquiries.
=========================================================================================
Monday 16th December
Main Meeting - Christmas Party with Chicory Tip.
About 115 Members and Associate Members enjoyed our Christmas Party held at Grove Green Community Centre.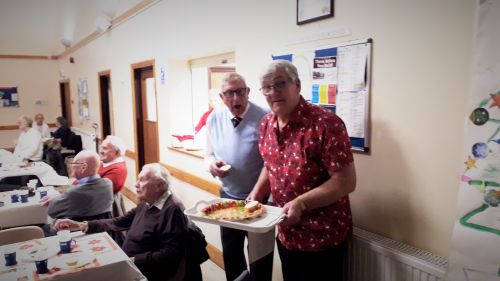 It is customary at this function that the committee serve the members Sausage Rolls, Mince Pies and Mulled Wine at their tables.
Our Chairman Dave is not excused this duty.

Our thanks to the Committee for organising this party and providing such good waiting service, while the members enjoyed the music and dancing.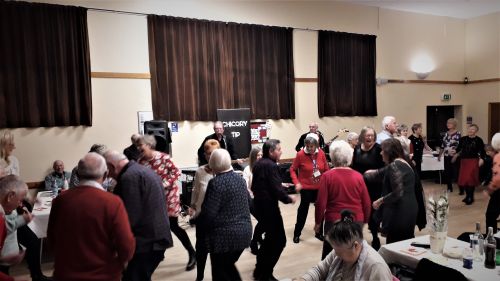 ---
Thursday 5th December
KentARA Christmas Concert - Held at Ditton Community Centre at 3:00PM.
25 BeARA members joined the other 275 ARA members from around Kent to attend this concert, we 1st had the superb Martyn Harrison to entertain us with his humorous take on Christmas with incorporated songs. Followed by 13 members of the The Military Wives Choir who sang some wonderful popular songs and their conductor amused us with some "Christmas Cracker Jokes" and the afternoon was rounded off with Chicory Tip the local 60s pop band who had a UK number 1 hit with "Son of your Father" all in all a fabulous afternoon's entertainment.
---
Tuesday 3rd December
Tenpin Bowling Group - December Meet up.
Our December meet up proved to be interesting as it was the final session to decide who was the highest scoring players of the year. The scores were:
Ladies (This Month)
Pauline Lock ----- 147

2019 Year Champion
Pauline Lock ------ 147


Men (This Month)
Jim Patton ----- 164

2019 Year Champion
Graham Morecraft ----- 182
---
Monday 2nd December
BeARA Christmas Lunch - held at Weald of Kent Golf Club.
About 87 members attended our Christmas Lunch at Weald of Kent Golf Club, and sat down to a magnificent 3 course lunch, arranged by Pam Longhurst as usual she did a fabulous job with a stunning amount of attention to detail.
---
Monday 25th November
Bi Monthly Walks - Hythe Royal Military Canal.
.. Members decided whether to meet at Tesco's Grove to travel to Hythe in a car share or some decided to meet at the car park in West Hythe, we had a very enjoyable walk of about 3 1/2 - 4 miles in the area before returning to our cars to travel to ............................. our chosen pub for lunch. Fortunately the forecast rain held off until after we had completed the most enjoyable walk.
---
Tuesday 19th November.
Tenpin Bowling Group. Annual Christmas Lunch.
29 Member of our Tenpin Bowling group attended our annual Christmas Lunch this year we assembled at The White Horse on Bearsted Green. After meeting in the bar and having drinks we took our places in the function room and had a most enjoyable few hours socialising with other members. After we all expressed our gratitude to Dave and Viv for all their efforts in organising the bowling and the Christmas Lunch. Dave advised of the top scoring Lady and Man for the months throughout the year, as there is still a meet up to go the final winner is not yet known. Watch for announcement following December meet up.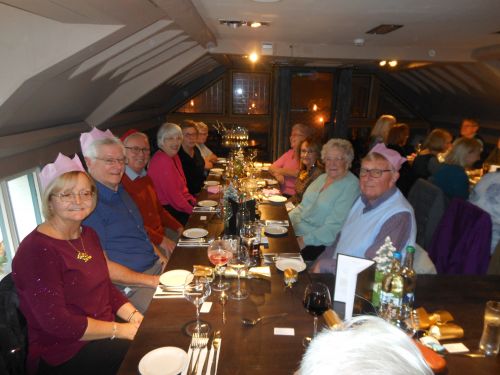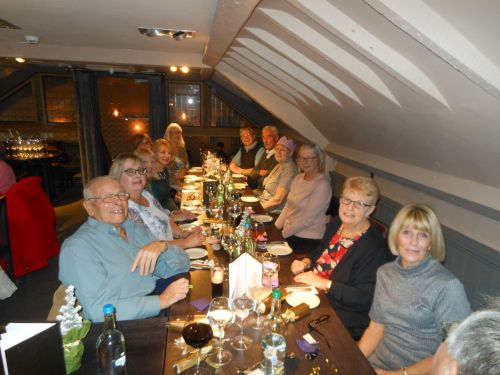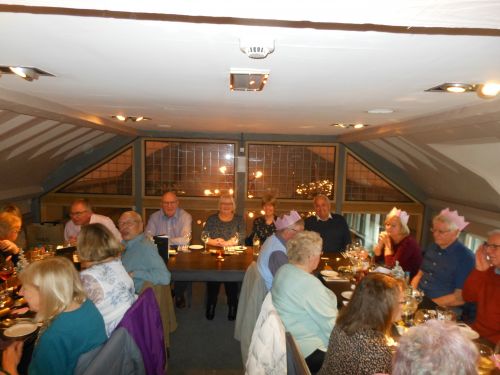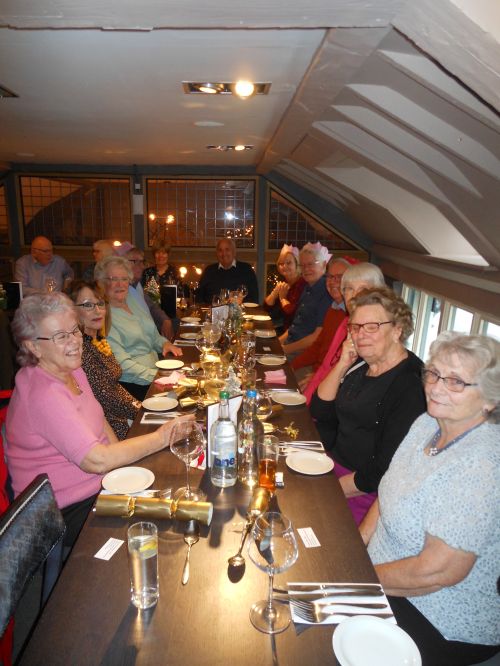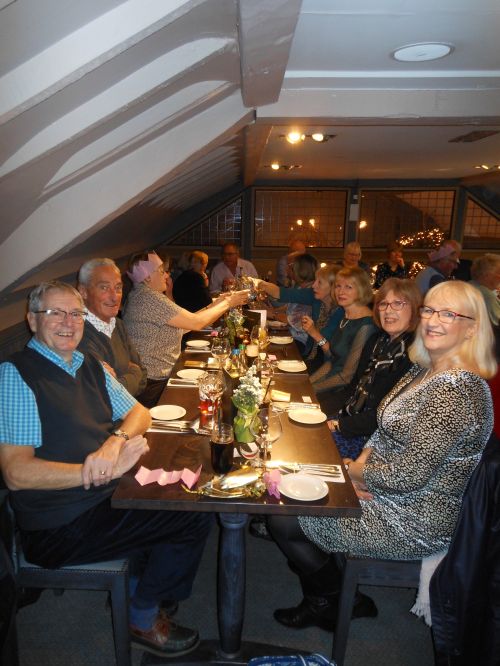 _______________________________________________________________________________________________________________________
Monday 18th November
Main Meeting + Medical Detection Dogs by Biddy Wood & Millie Harries

Our speakers today were two delightful ladies from the Charity Medical Detection Dogs who's charity train dogs to detect the odour of human disease. It is in in the forefront of the research into the fight against cancer and helping people with life- threatening diseases.
This turned out to be a most interesting and informative subject with many members showing much interest in the subject.
---
Thursday 7th November
Tenpin Bowling Tournament - KentARA Annual Tournament at Rochester.
Each year KentARA hire an entire Bowling Alley to stage the Tenpin Bowling Tournament with 2 teams of 3 over 24 lanes each playing 3 games the scores are added so is very much a team effort and scores are centrally collated to give positions of each team within the 3 categories Men's, Ladies and Mixed teams.
The Results of the Tournament are as follows: - Our congratulations to the winning teams.
Men's Competition Winners (14 Teams)
CLIFara Score 1218

Ladies Competion Winners (10 Teams)
CLIFara Score 1125
Mixed Team Winners
LANBara Score 1213
.
BeARA Teams & Results
BeARA Mens 1 Score 942 (13 Place)
Ron Lawrence
Dave Flexman
Grahame Lock

BeARA Mens 2 Score 1067 (8th Place)
Graham Morecraft
John Faller
Richard Hassell
BeARA Ladies Score 821 (7th Place)
Pauline Lock
Pauline Horsley
Sue Humphrey
BeARA No Mixed Team Entered
---
Thursday 7th November
Social Outing - McArthur Glen Shopping Outlet & Dobbies, Ashford.
A full coach travelled to Ashford McArthur Glen where much retail therapy was enjoyed, some had lunch at the various eateries then it was onto Dobbies where some chose to have a nice cuppa tea some also had cake and some continued with more shopping, an enjoyable day was had by all.

---
Tuesday 5th November
Tenpin Bowling Group - November Meet Up.
26 members attended our meet up this month
Top Scoring Lady
Helen Kent --- 117
Top Scoring Man
Paul Jenkins --- 142
---
Tuesday 22nd October
Outing - Hurstmonceux Science Centre - Michelham Priory House.
A full coach travelled to this most interesting Science Centre, after filing through the entrance we were given a quick overview of the sight and told to meet our guides for a tour of the site at a predetermined time. In the meantime we visited the cafe for a coffee and observed the multitude of scientific experiments and saw some of the telescopes for public viewing.
Our tour guide explained the history of the site and showed us many interesting aspects of the telescopes and the way they worked. It was also fascinating to learn that the lunar maps used for the Apollo moon landings were in fact created at this site. Following our tour a short time was spent in the gift shop before re-boarding our coach for the 20 minute journey to Michelham Priory. For more Information CLICK HERE
On arrival at Michelham Priory we visited the Cafe for lunch then viewed the many exhibits and artefacts including a forge (sometimes demonstrations take place but not on the day of our visit) There was also a collection of agricultural machinery and of course the Priory House itself where knowledgeable volunteers provided much information about the building, history and artefacts.Our thanks to John Faller for organising this trip.

---