2023 Activity Reports
If you were there you can Reminisce
If you were not there you'll know what you Missed
If your NOT a member you can see what you're Missing! - Contact Addrienne Campbell-Lawrence for membership enquiries via the "Contact Us" tab above.
============================================================================
5th December 2023 Tenpin Bowling including presentation of Trophies to this years winners.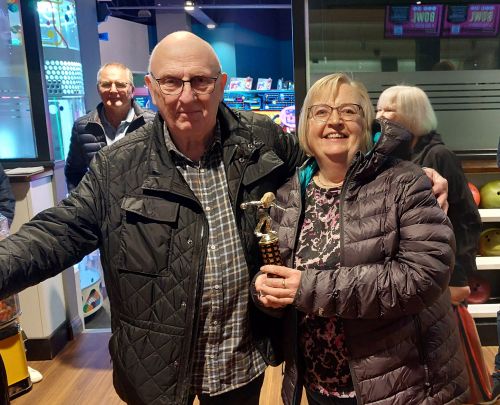 Sue Humphrey was our highest scoring lady of the year with a score in July of 126 and was presented with the Trophy and a bottle of wine by our group leader Dave Flexman, Well done Sue. (left)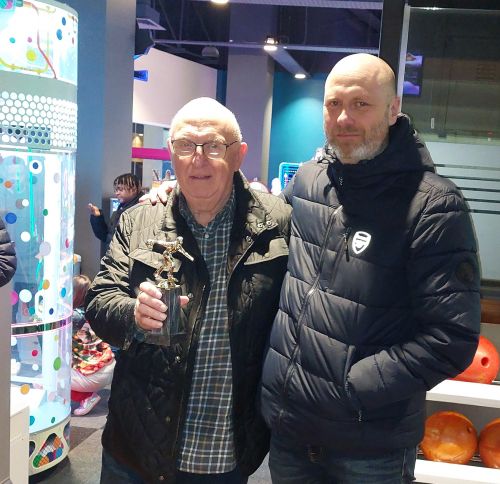 Our Highest scoring man this year as it happens was Dave Flexman our group leader who attained his best score of the year of 155 also in July. He was presented with his Trophy and bottle of wine by his son who joined us for the session. (Right)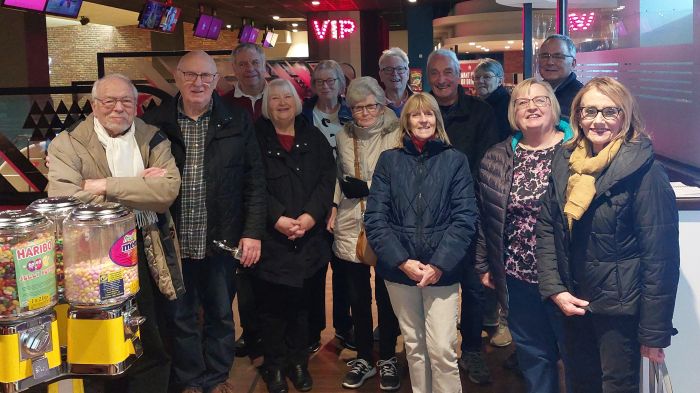 Our group of 13 regular Bowlers who were playing today.
Top Scores today were:
Ladies: Pauline Lock 104
Men: Paul Jenkins 121
---
30th November 2023 Tenpin Bowling Group Christmas Lunch
17 members of our Tenpin Bowling group members and their Spouses / Partners descended upon The Potting Shed to enjoy a three course Christmas Lunch and raffle. a most enjoyable time was had by all that attended.
---
21st November 2023 Beatles Christmas Party Dance (At The Great Danes Hotel)
For some of us this was our second Party of the month where almost 60 of our members joined various other clubs making a grand total of 188 people in attendance, with doors opening at 10:15AM with mince pies & Coffee, Christmas Carols, a Quiz, Some Beatles Singalong, followed by a 3 course set Christmas Lunch then Dancing to a live duo.
Most of the BeARA members at their tables.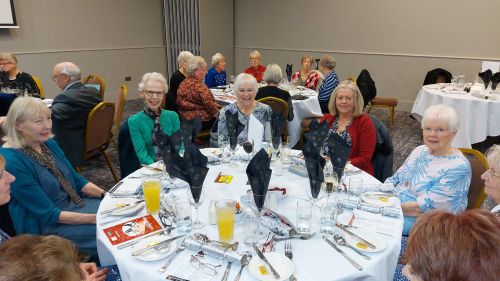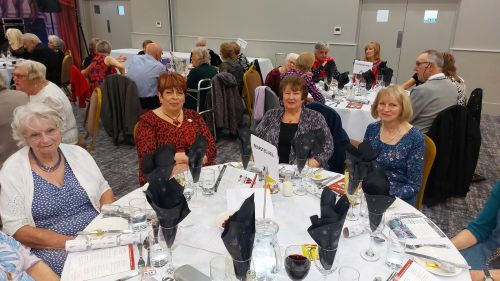 ---
20th November 2023 Main Meeting
Our meeting today was a little out of the ordinary as our Chairman was off due to recovering from a medical procedure and our vice chairman was away on holiday. Fortunately one of our newest committee members Graham stepped into the breach and hosted the meeting today.
90 of our members again enjoyed a talk by Peter Griffiths with Part 2 of "Sextant to SatNav" describing various experiences encountered during his 45 year career in aviation. Part 1 was a very popular talk held at our Main Meeting in July 2022.
Thank you Peter for a most interesting presentation of the latter part of your career.
---
14th November 2023 25th Anniversary Lunch & Dance Party.
Our Celebration of BeARA's 25 years as a club, was held at The Orchard, Downswood where we received a 2 course lunch followed by dancing to the dulcet tones of Mike Harris (AKA Mr Smooth). Unusually for BeARA and to make the celebration special we deviated from our normal "smart casual" dress code for a suggested "Posh Frocks & Lounge Suits" theme, this suggestion was very largely adhered to and the room was adorned by beautiful attired ladies and very smart gentlemen. Perhaps we should do this more often.
Please see photo's of almost all of the attendees below seated at their tables in table order.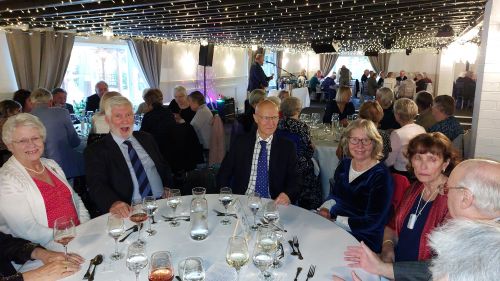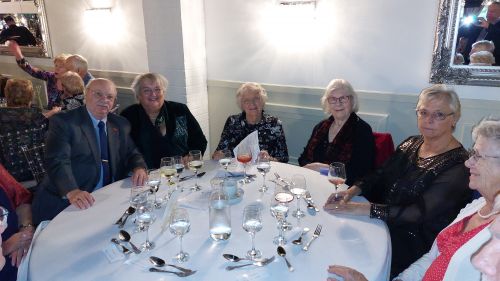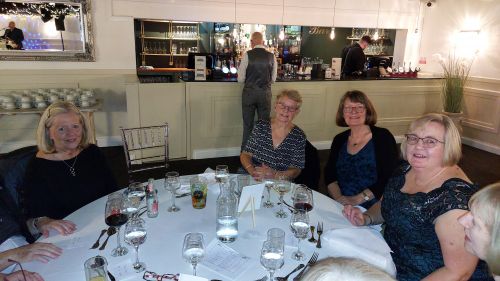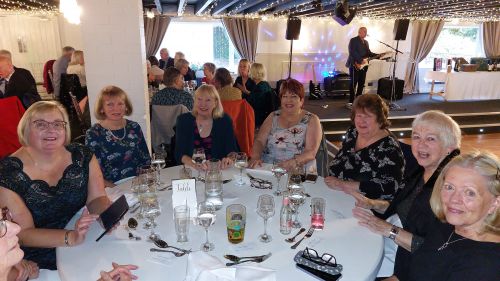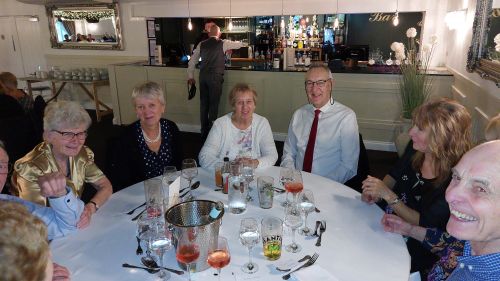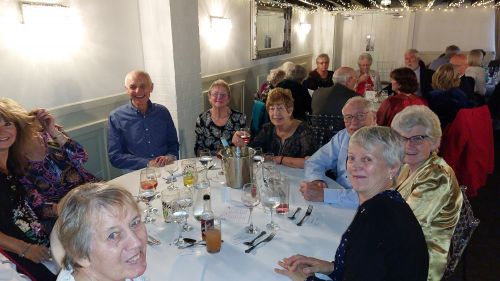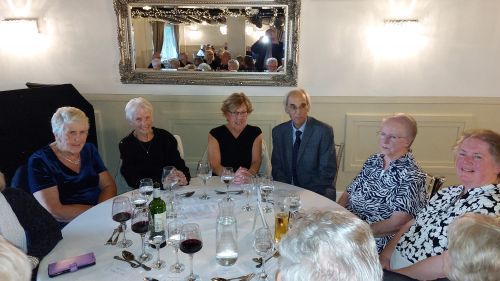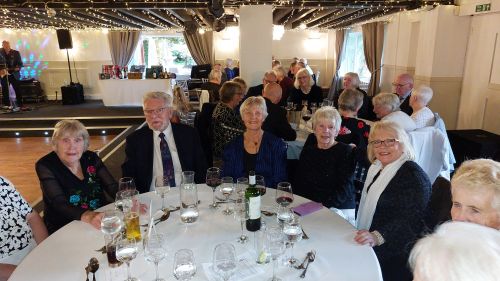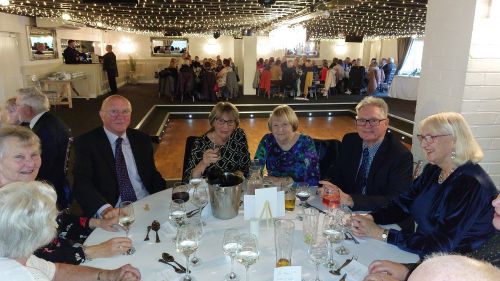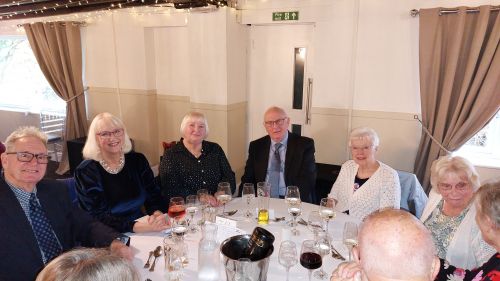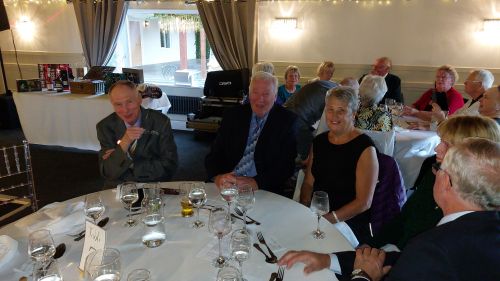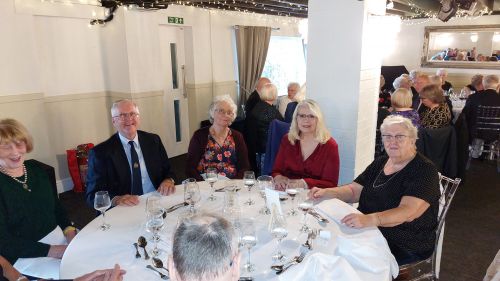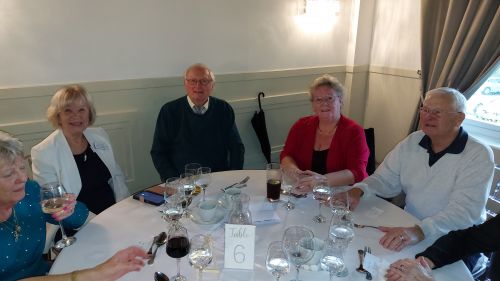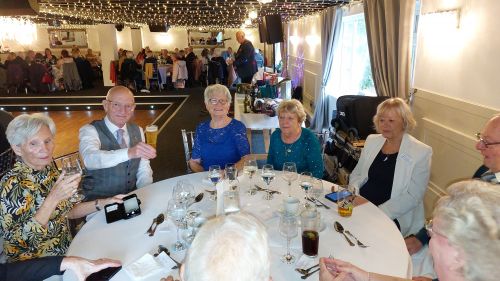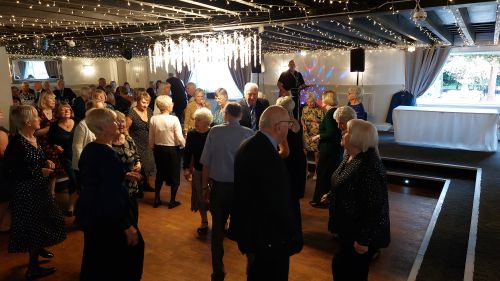 We would like to thank Barbara & Bob Abnett along with Diane Huddart (Left photo above on extreme left to centre respectively ) for organising this wonderful event.
---
6th November 2023 Tenpin Bowling
At our meetup today we had 12 bowlers and 2 supporters who had an enjoyable couple of hours bowling with top scores today (over 100) were:
Ladies Sue Humphrey 114
Men Paul Jenkins 122
---
2nd November 2023 Social Meeting Musical Afternoon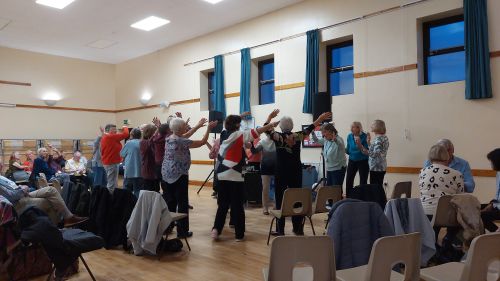 Our Social Meeting was a great success with music provided by our own Graham Morecraft assisted by his wife Linda.
Graham had been collecting requests for a while so music choice was well received with much dancing throughout the afternoon.

A new member wrote afterwards with the following comment:

"Pleased that a friend told me about BeAra & I must say how much myself & my friend enjoyed the Musical afternoon on Thursday"
.
---
16th October 2023 Main Meeting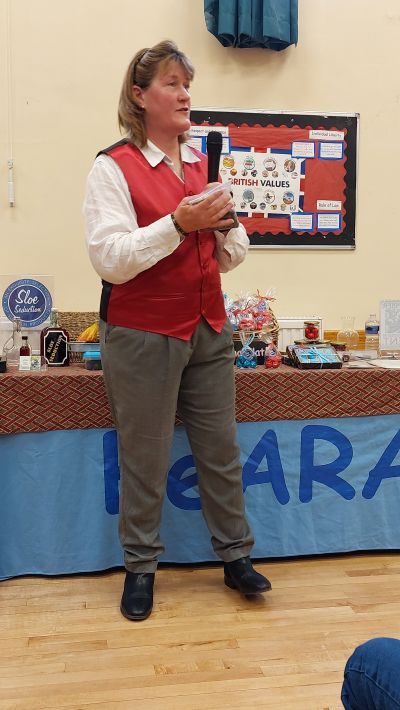 Our meeting today was well attended with 100 members including the new president and secretary of KentARA who attended as our honoured guests.
.
Our guest speaker was Katharine Hook who provided us with a most interesting talk about her artisan business of producing Sloe Gin and Chocolates. Some of us were fortunate enough to taste her sample chocolates that to say they were delicious would be an understatement to say the least.
.
She also informed us of her "other quite different Job" when not producing chocolates or sloe gin, but we won't go into that as is another subject entirely.
.
The afternoon concluded with her selling her delicious chocolates with a queue across the hall.
---
9th October to 13th October 2023 Blackpool Illuminations
Our group of members who participated in our 5 day Blackpool break staying at the Ruskin Hotel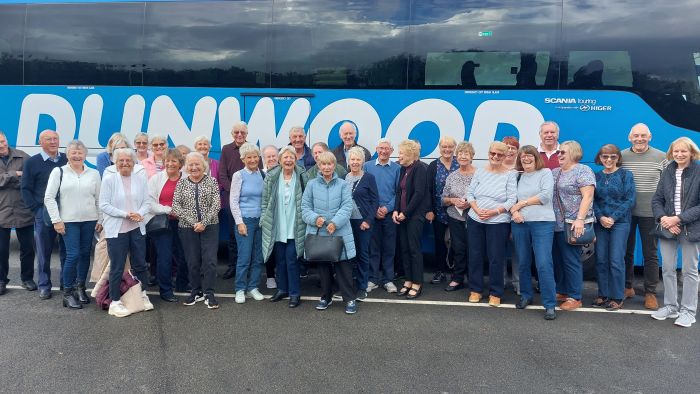 It should be stressed the Famous Five below were NOT late for the Photo Call but the other 36 members were early and seemed impatient to board the coach for our onward journey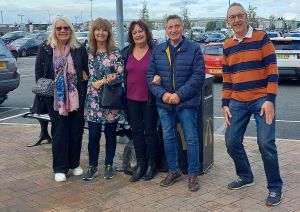 .
On Tuesday we embarked on an excursion to visit the city of Liverpool where we hadseveral hours of free time to explore the various landmarks and sights of the city.


The Beatles Statue is situated a few hundred yards away.
.
The famous Cavern Club is near the centre of the city with many tourists taking photos of the entrance.
.
.
.
.
.
On Wednesday we had a free day to explore Blackpool. some ventured up the tower and into the Ballroom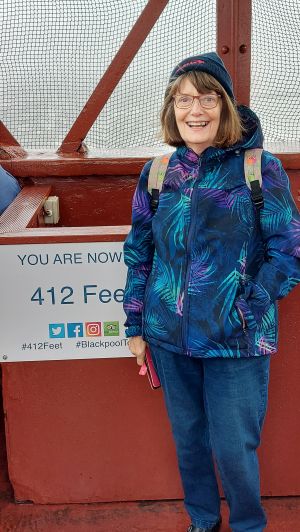 Some reached the highest point permitted at 412 feet above the pavement.
.
Some of our group visited the famous Blackpool Tower Ballroom where there were various organists playing the Wurlitzer continually throughout the day.
The experience was enhanced considerably by a party of "real dancers" who danced throughout the day giving a lovely atmosphere to the event.
Some of our group delved into their memories and managed to dance around the floor with steps previously thought as long forgotten. Taking to the floor with the Waltz, Quickstep, Jive, Etc.
A good time was had by all.
Thursday we had a trip to Fleetwood Market and then on to Cleveleys (a small town north of Blackpool) for some more free time. Before returning to our hotel.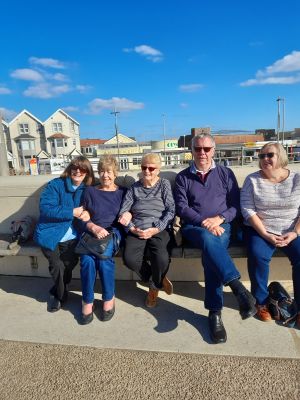 A stop at Cleveleys where some enjoyed the Autumn sunshine on the promenade.
Our coach driver kindly offered to drive us through the Illuminations after dinner prior to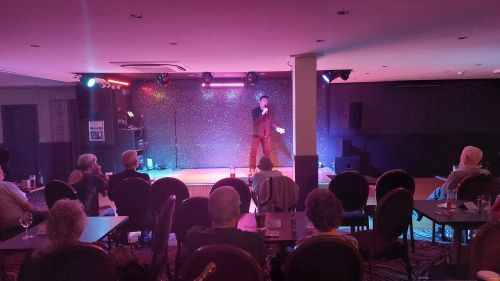 returning for our evening entertainment at the Ruskin Hotel.
.
Our thanks to Dave Finch for organising this fabulous break.
.
---
3rd October 2023 Tenpin Bowling
A small number of our regular members attended our monthly bowling session due to holidays and previous unrelated injuries, of those who did attend the highest scorers were:
Ladies - Pauline Lock 110
Men - Peter Humphrey 137
---
26th September 2023 Monthly Lunch Out Club
Our monthly lunch out club enjoyed a Chinese Meal kindly provided by The Crown City restaurant in Teston. 35 members attended this fabulous lunch that was kindly organised by Pat & Lee our thanks to them and the staff at the restaurant for making this event such an enjoyable occasion.
---
18th September 2023 Main Meeting

Featuring Speaker- Mary Winder with "A Day In Court" a talk from a former magistrate.


Mary provided us with a most interesting talk about the experiences of a Magistrate, including much information about who could become a magistrate, what they had to be willing to do and the training they have to go through.

There was even a section of audience participation where some were "pulled up" for crimes they "supposedly" committed and Mary explained how they would be dealt with through the magistrates or crown courts.
A most interesting insight into the world of justice. Thank you Mary.
---
7th September 2023 Social Meeting Beetle Drive
39 members joined us for our Beetle Drive that was very encouraging as the weather was a blistering 31c an enjoyable afternoon was had by all that attended.
---
5th September 2023 Tenpin Bowling
A smaller than usual group of regular bowlers attended our monthly bowling session as 3 of our regular members were absent due to holidays and recent injury's. Although the weather was hot Air Conditioning system at Hollywood Bowl was working well so a comfortable and enjoyable few hours was had by those who attended.
Our top scorer today was Dave Flexman who scored 143 unfortunately our ladies did not attain our minimum score to be recorded.
---
25th August 2023 KentARA Short Mat Bowles Tournament at Larkfield Community Centre
Congratulations to our Short Mat Bowling Team, consisting of David Archer, Gordon Hodges and skip Bob Abnett who were runners up to HadARA, Hartley and District Active Retirement Association, In a very competitive day of bowling at The Ditton Community Centre on Thursday 24th August 2023. 18 teams took part in a friendly, but competitive tournament, organised by BeARA.
Bad news and disappointment in not winning, but good news that HadARA will be organising it next year, not us!
Dave Finch
---
21st August 2023 Main Meeting
Featuring Mick Abbott (Loose Covers)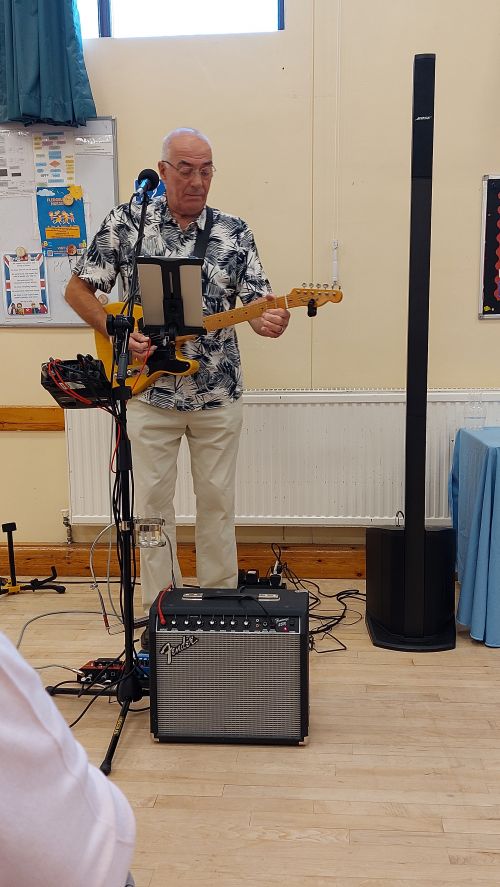 Mick Abbott entertained 102 of our members with many of the songs from the 50s & 60s that we all enjoy to sing along with.
11th August 2023 Lunch & Entertainment at The Dog & Duck at Plucks Gutter, Thanet.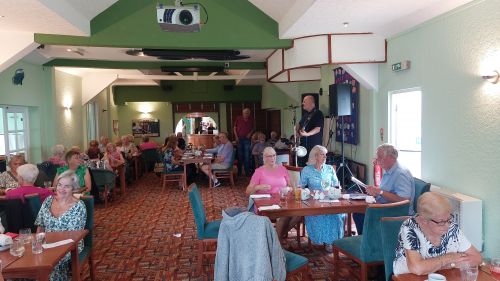 We had an excellent trip to The Dog and Duck public House, Plucks Gutter. we had a fabulous 2 course lunch followed by some excellent entertainment provided by Mike Harris, ( AKA Mr Smooth) our entertainer, commented afterwards what a great crowd we were, and how everyone got involved in one way or another! such a nice comment.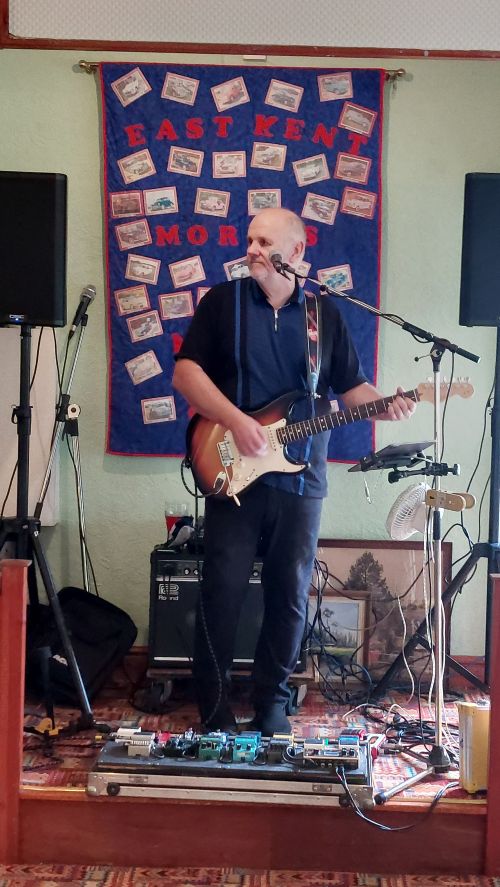 Our entertainer Mike played some background while we ate our meal then more upbeat afterword's for dancing, with many songs from the sixties, seventies and eighties that we all know and enjoy, we danced the afternoon away.
---
1st August 2023 Tenpin Bowling
Just 8 of our members and 2 supporters braved the School Holiday mode of Hollywood Bowl Maidstone where loud music and flashing disco style lights adorned the bowling ally, never the less those who attended had an enjoyable 3 games with the top scorer's being:
Ladies - Sue Humphrey 102
Men - Dave Flexman 136
---
21st July 2023 Coach Trip to Hever Castle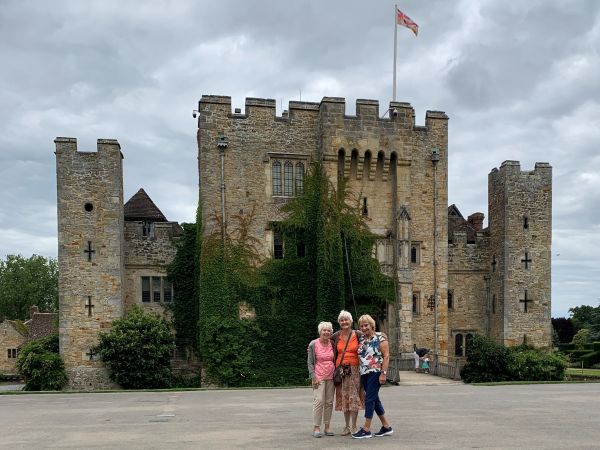 Image Curtesy of Dave Finch
On Friday 21st July a group of 46 of us had a day out at Hever Castle. It was especially pleasing as we were joined by some members of MaidARA.
We had two very comfortable coach journeys and our thanks go to our driver Dave who had to negotiate a very low bridge, twice!!!
Pleased to say that the weather was very kind and we all stayed dry in spite of the forecasted showers.
We were able to stroll around the lovely gardens taking in views over the lake and the various themed garden areas, with the Italian gardens looking particularly pretty.
The tour of the castle with the Castle Multimedia Guide gave us a fascinating incite into the history of Henry VIII and the Boleyn family, together with the various adaptations and additions to the building undertaken by the Astor family.
Unfortunately one of the catering outlets was closed due to a private function, but everyone got fed, although not as quickly as we'd hoped.
Finally, everyone had a good time and I'm pleased to report that, as it was my first time arranging an outing, we managed to bring the same 46 people that we went with.
Graham Morecraft
---
17th July 2023 Main Meeting
Featuring: Christine Rayner with "Bygone Kent" (stories from Kent's rich past) who gave an interesting presentation of many historical facts about Kent that must have been very deeply researched.
For more information go to the "Bygone Kent" website or Click Here.
---
6th July 2023 Social Meeting Cash Prize Bingo
Awaiting Report!
---
4th July 2023 Tenpin Bowling
Our monthly meetup today was attended by 10 bowlers and one supporter our top scoring members today were:
Ladies -- Sue Humphrey 126
Men ---- Dave Flexman 155
---
19th June 2023 Main Meeting
Today we were fortunate to have Delia Taylor who gave us a talk on the "The Fabulous Fifties" (a fun look back at this wonderful era).
Clearly, Delia has done much research into this era and provided a fascinating presentation including film clips of music and other items of interest that brought back many memories from our childhood days with many facts that had drifted out of our memories.

Thank you Delia for a most interesting and enjoyable presentation.

---
6th June 2023 Tenpin Bowling
A disappointingly small number of just 9 bowlers attended this months meet up although all enjoyed the 3 games in about 2 hours of bowling.
We record the bowlers who score 100 or more, but those who score less should not be put off as we all started with low scores and improved over time with practice. Its a great way to meet and get to know other members, so why not come along and enjoy yourselves.

Top scores today were:

Ladies - Julie Wickens - 102
Men - Graham Morecraft - 135
---
1st June 2023 Mystery Tour to ???????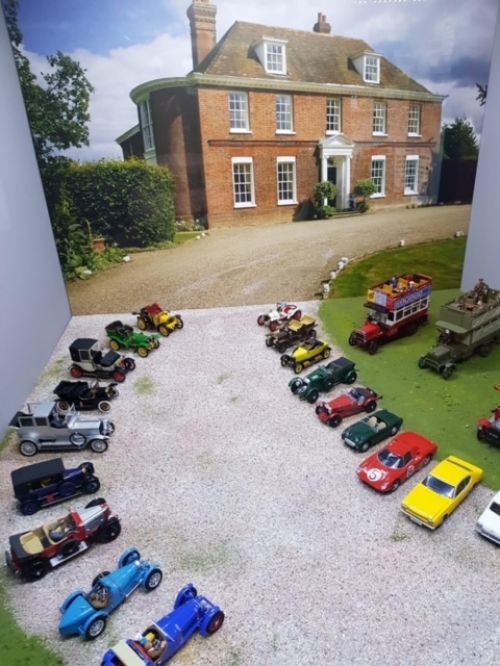 The 2023 Mystery Tour A full coach of 53 members enjoyed The Mystery Tour on Thursday 1st June 2023. After leaving Grove Green at 9.30 am, we travelled down the A20 to Charing, then on to Canterbury, and finishing our journey at The Historic Hornby Hobbies Factory Shop and Museum in Margate.
After an hour at this location we continued to lovely Broadstairs for a two hour stay to take lunch and some exercise ! We then boarded the coach once again, and made a short journey to Manston, to The Hurricane and Spitfire Museum, followed by a visit to The RAF History Museum, before our journey home.
"A very interesting and lovely day out" and "Thoroughly enjoyed the mystery tour" were some of the comments made, with some of the ladies saying it was more for the men than the women!!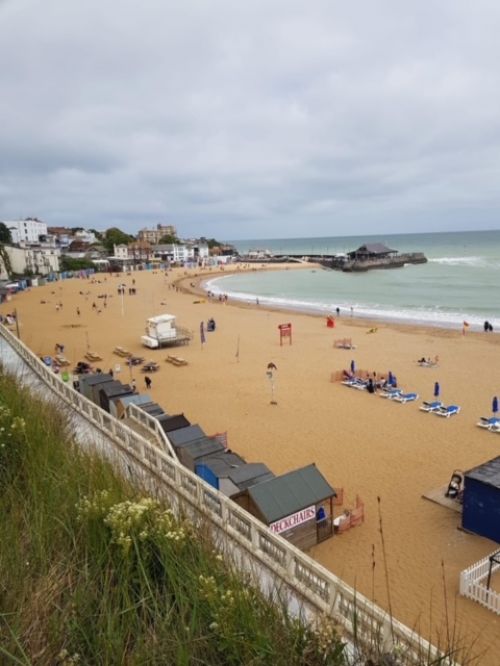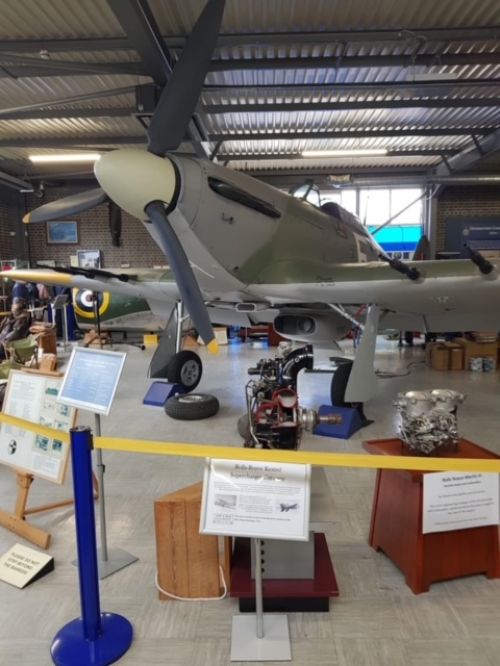 ---
22nd May 2023 Bi-Monthly Walk with David & Janet Leech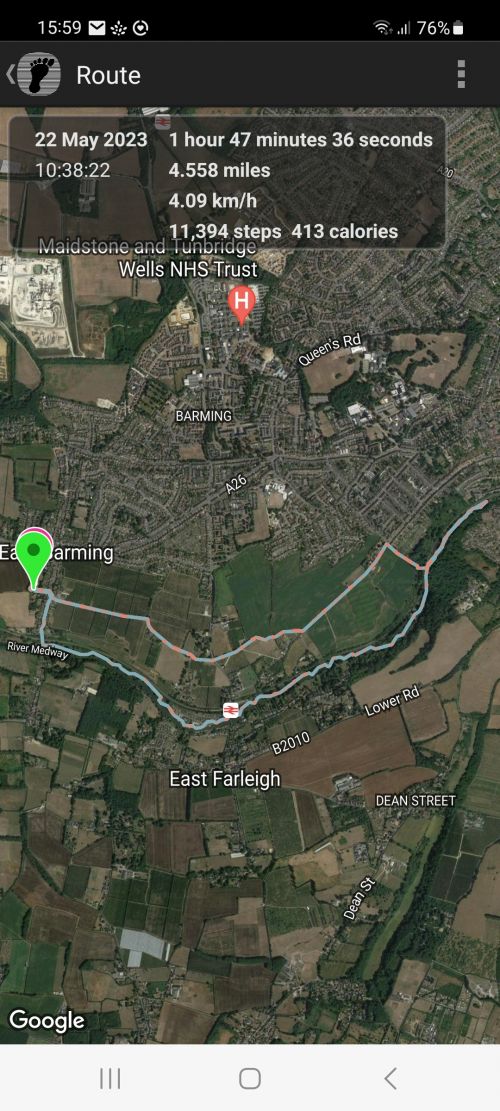 Our walk was supported by 15 members who walked for 4.5 miles from Barming South Park Pavilion on the River Medway Tow Path towards Maidstone returning back to the car park on higher land where most walkers adjourned to the Barming Bull Public House for a well deserved lunch.
Our thanks to David & Janet for organising this walk.
---
15th May 2023 Main Meeting Featuring Kim White OBE


Today we were privileged to welcome Kim White OBE who gave us a very interesting talk "Hard to Reach" (covering her work in the Police Force with Domestic Violence and the Traveller community) she covered her life from childhood through her police training and career on to being awarded the Officer of the Order of the British Empire Medal (OBE) that she received from Her Majesty the Queen.
---
11th May 2023 Coronation Celebration Afternoon Tea
Our Coronation Celebration Afternoon Tea was enjoyed by 90 members, organised by Diane Huddart with much lovely food prepared and served by the ladies of our Tea Team. Entertainment was provided by Jason Allen who performed many of our favourite songs from the fifties sixties and seventies. (Members can view a short video clip on the members Home Page)

Our sincere thanks to Diane and all who were involved in the preparations for this most enjoyable event.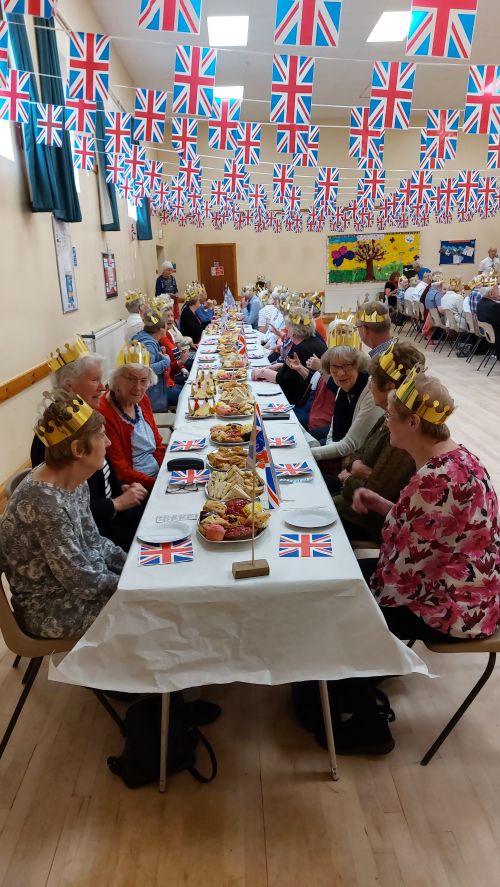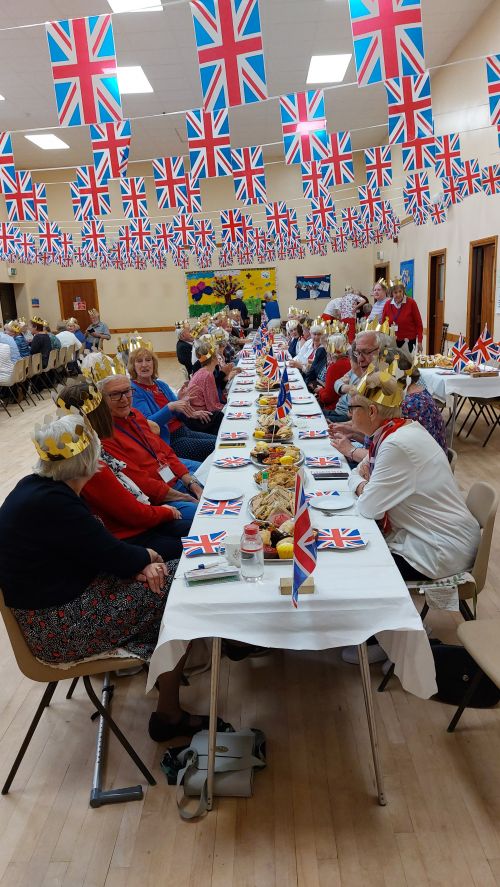 ---
2nd May 2023 Tenpin Bowling.
11 members arrived to bowl today with 2 supporters a good session was had by all who attended.
Top scores today (over 100 ) were:
Ladies - Pauline Lock - 124
Men - Dave Flexman - 148 closely followed by new member Mike Harrison with 146.
---
25th April 2023 - 4th May 2023 Holiday to Crete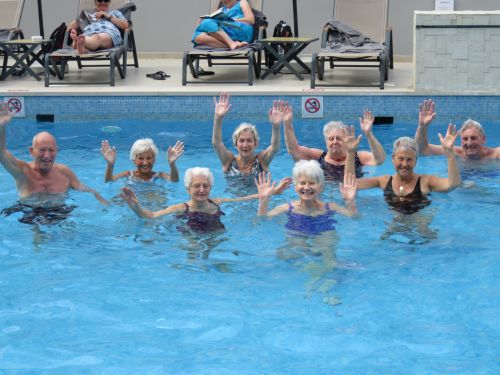 Images Curtesy of Linda Siems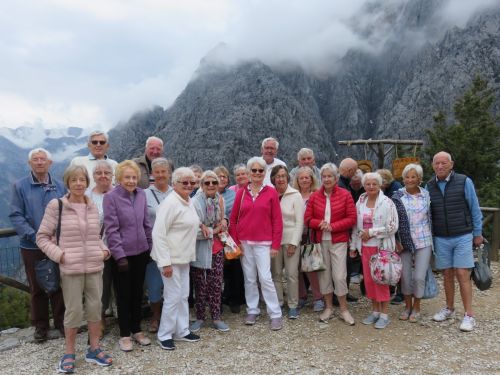 After a very early start 24 of us set of for Crete.
Our 10 days consisted of trips out to enjoy different parts Of Crete and the ever changing scenery.
Thanks to Ann our tour leader [full of info and help] And George our great driver. It was great to get to know other members better.
The hotel was welcome at the end of each day and the hardy few enjoyed the pool.
Success 24 went and 24 came back
Many thanks for the flowers& voucher and we are so glad you enjoyed yourselves
Barbara & Bob
---
24th April 2023 Bi Monthly Walk with David & Janet Leech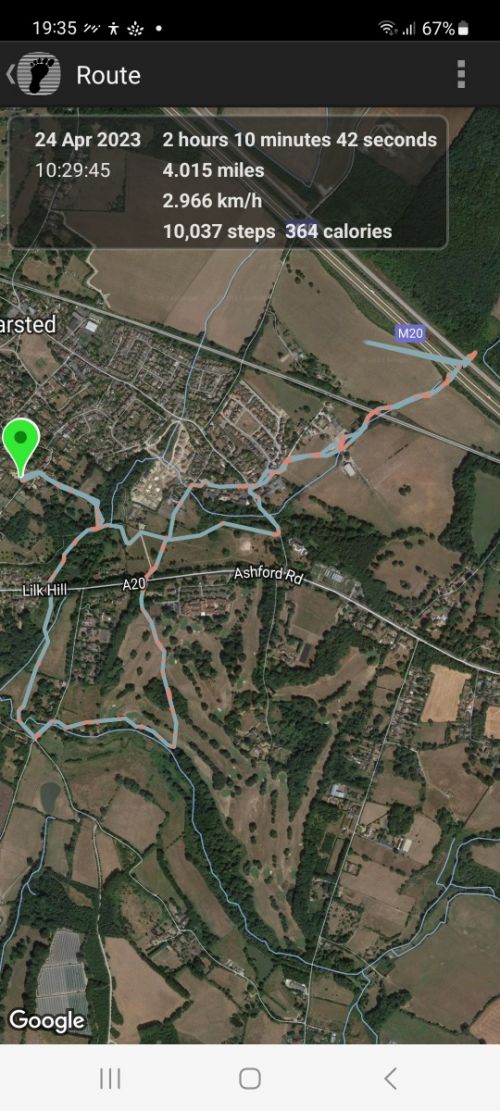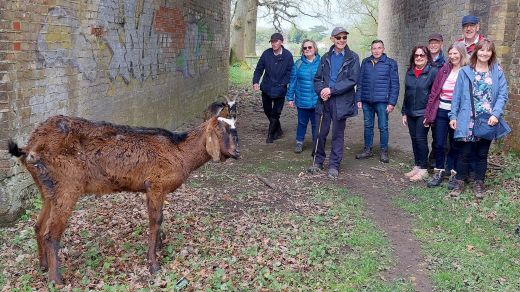 .
.
.
.
.
.
16 in total of our members joined David & Janet for their regular Bi-Monthly walk, on this occasion we met at the Holy Cross Church Carpark and took a walk through the Woodland Trust around the Tudor Park Golf course, then heading north again through the Woodland Trust to the A20 & Eurostar Line, finding the rural paths extremely muddy we returned via an alternative route to our cars then most of the participants adjourned for a group lunch at the Park Gate Inn.
---
17th April 2023 Main Meeting Featuring Rob T. Entertainer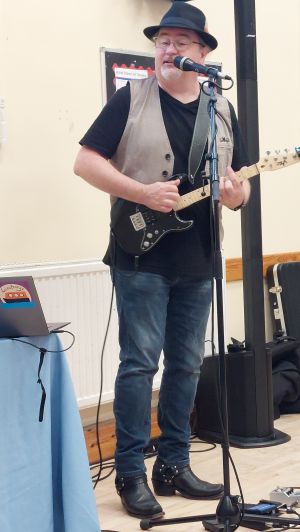 Today 107 of our members arrived to our Main Meeting including a good number of new members. Hopefully they enjoyed one of the warmest afternoons so far this year.
We were most ably entertained by Rob T, who played his electric ukulele and sung many of our favourite songs from the 60s 70s & 80s a most enjoyable afternoon was had by all who attended.

For more information about Rob T. To visit his website Click Here

---
6th April 2023 Social Meeting: Play your Cards Right
A successful social was enjoyed by around 40 to play the former popular TV game show "Play Your Cards Right" hosted by our Chairman Dave Finch and supported by our own "Dollies" Paula & Beverley.
---
20th March 2023 Main Meeting. Featuring Nick Kelly
Today after much going on with members adding their names to event lists and paying for forthcoming outings etc.
We were ably entertained by Nick Kelly who kindly agreed to change his original booking for our October meeting, as our planned speaker had to cancel at short notice due to ill health. Nick gave us some excellent music and songs. it was also very encouraging for us to here from a new member who contacted us via the website after the meeting with the following comments:
"Wow. What a fantastic meeting, thoroughly enjoyed every minute with Nick Kelly he was superb, I just did not want his playing to end. Thank you".
.
Such comments are always very welcome, and makes the efforts of the committee members and others worth while. Thank you.
.
for more information about Nick Kelly visit his website www.ducksoup-nickkelly.co.uk
---
7th March 2023 Tenpin Bowling
A disappointing number of 8 members (plus 1 supporter) attended this months tenpin bowling meet up but the session was much enjoyed by those players. All members are welcome.
Top scores today (over 100 ) were:
Graham Morecraft- 153
---

2nd February 2023 Social Outing to Milestones Living Museum, Basingstoke.

.
A great day out was had by 40 members at the milestones living museum A lunch break was had by all to rest after a lot of very interesting exhibits were visited.

Image Curtesy of Bob Abnett
---
20th February 2023 Main Meeting: Annual General Meeting (AGM)


This month's main meeting was our AGM where we the committee discuss with the members what we are planning and take their comments and opinions regarding various plans for the club for the next year.
Our charity for 2022 was the Heart of Kent Hospice where we presented their representative with a cheque for £1321.32 raised by various fund raising activities throughout the year.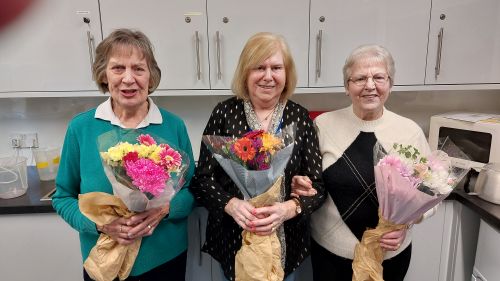 Our generally un-sung hero's "The Tea Team" as they are affectionally referred to were each presented with a bouquet of flowers in gratitude for their commitment in providing Tea or Coffee and Biscuits during the meetings throughout the year. Our thanks to left to right Val Fuller, Dawn Carter & Jean Plumb.
The meeting was concluded by an appeal by the Guide Dogs for the Blind who are seeking Dog Fosterers to assist with training of guide dogs following the disruption to the breeding and training programs caused by Covid19. We were also introduced to a lovely guide dog and handler who explained how a guide dog changes the life of a blind or visually impaired person. Anyone interested in fostering a guide dog during training should contact Guide Dogs via their website. Click Here for More information.
---
7th February 2023 Tenpin Bowling
Our February meet up was attended by 10 members bowling, we would love to see more members attending so why not come along and give it a go?
The top scores over 100 were:
Ladies: Sue Humphrey 121
Men: Grahame Lock 130
---
2nd February 2023 Social Meeting Beetle Drive
Waiting Report.
---
.
31st January 2023 First Monthly Lunch Club at Papa's Barn Fish & Chip Restaurant, Ditton
Having not had a lunch club since Covid 19 this was reintroduced this month with an overwhelming response from our members, with almost double the number of participants for this event than the venue could accommodate.
With considerable effort on the part of our organiser Elaine and much co-operation of Papa's Barn and our members who were willing to transfer to the following week, a "second sitting" was arranged.
Miraculously 30 people arrived at Papa's and a good time was enjoyed by all.
A few places remain for Tuesday 7th February, If any members would like to join this additional date please contact Elaine contact details in the members area, on the Newsletter or via the "Contact Us" tab above.
---
30th January 2023 Bi-Monthly Walk with David & Janet Leech


Our walk today was in glorious winter sunshine although a bit chilly, starting at The Horseshoes Pub taking a well planned route around the area along many footpaths and fields after walking for just over 4 miles returning to The Horseshoes pub again where most of the 13 participants had a well deserved lunch.
Our thanks again to David and Janet for organising this most enjoyable walk.
---
16th January 2023 Main Meeting: Featuring Carol Anne Wells Singer / Pianist.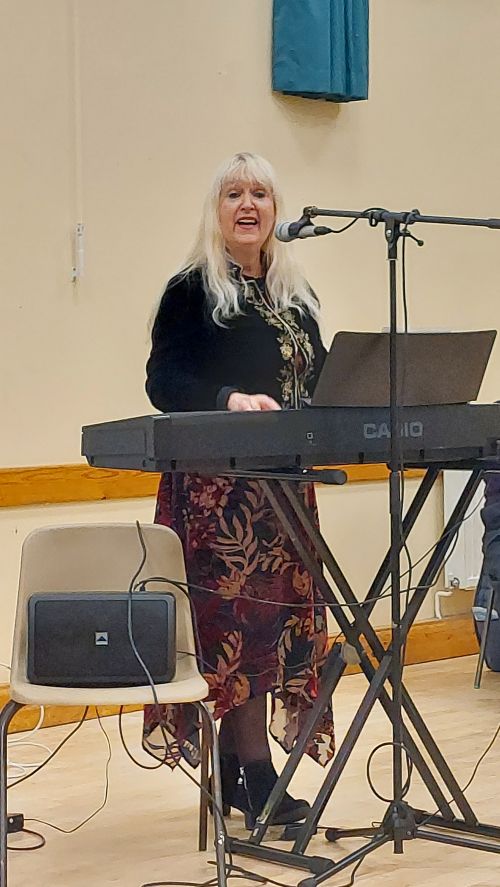 Today we were privileged to welcome our entertainer Carol Anne Wells, an accomplished professional Pianist & Singer who performed her "Fab Fifties & Super Sixties show" with a slight classical twist much to the delight of our 99 members who attended.
Our highest attendance of members at a main meeting since Covid 19.
.
---
10th January 2023 Tenpin Bowling 1st meetup of 2023.
Just 11 members arrived to bowl today although disappointing in numbers a most enjoyable session was had by those who attended.
Our top scoring man was Paul Jenkins with 132
Unfortunately none of our attending ladies attained the minimum score of 100 to be recorded today.
---
5th January 2023 Social Meeting: Tea, Games & Chat Afternoon.
A most enjoyable afternoon was had by 36 members who attended the first social meeting for a good post Christmas catch-up..
---
4th January 2023: Tenpin Bowling late Christmas Lunch
Our annual Christmas lunch was held at The Potting Shed, Langley. with 15 bowlers & guests sitting down for a very enjoyable lunch during which time the trophy's for top scoring ladies and men in 2022 were presented by Dave & Vivien Flexman our Tenpin Bowling group leaders.

The ladies Trophy was won Jointly by Julie Wickens and Pauline Lock both scoring a commendable 122, while Paul Jenkins achieved a best score of 157. Well done to all three members. Regrettably Pauline was unable to attend the lunch / presentation so a library picture was used below. Hover cursor over pictures for more information.
Also our thanks to Dave & Vivien Flexman for organising the Tenpin Bowling group throughout the year and of course the lunch & Presentation.