2022 Activity Reports
If you were there you can Reminisce
If you were not there you'll know what you Missed
If your NOT a member you can see what you're Missing! - Contact Addrienne Lawrence for membership enquiries via the "Contact Us" tab above.
============================================================================
19th December 2022 Main Meeting: Christmas Party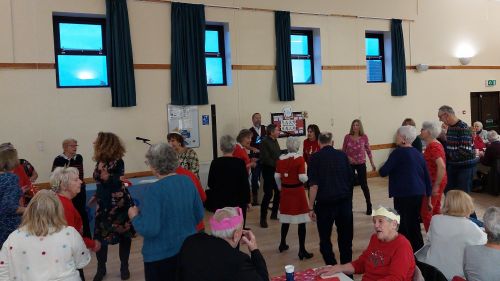 Our final activity of 2022 was our popular Christmas Party that was enjoyed by 75 members. This free event was open to all Full Members and featured entertainment by one of our favourite singer / keyboard musicians Nick Bosworth who once again did a Stirling job in entertaining us.
.
During the afternoon mulled wine and mince pies prepared by our tea team and served to the members at their tables by the committee as is a tradition at this annual event.
We would like to wish all our members a very happy Christmas and new year.
---
9th December - 10th December 2022 Thursford Christmas Spectacular 2022
About a year ago the BeARA committee committed to booking a coach outing to this well renowned Christmas Spectacular Show in Norfolk, that involved a one night stay in a hotel in the area. Unfortunately our members did not commit to this in the numbers we had hoped for.
Thankfully our coach company had another enquiry for the same date that we had booked and put a lady named Rita Dalton in touch with us, as a result we enjoyed the company of a delightful group of friends from various area's of Kent including Lenham, Harrietsham, Hythe and Loose to name but a few. Rita has since contacted Elaine (our trip organiser) to say all members of her group had commented on how friendly and welcoming we were towards them, which is of course always very nice to hear.
Leaving Grove Green at 9:30am we travelled to Norfolk arriving at our Hotel The Knights Hill Hotel & Spa at Kings Lynn. At 3:00pm we had our early 3 course Christmas dinner before travelling to the venue for the truly spectacular evening performance of the show. With over two and a half hours of fabulous Christmas themed live entertainment performed by a cast of around 130 professional performers. For more information visit (www.thursford.com/christmas-spectacular) Then travelling back to our Hotel for a good night's sleep. Following a hearty breakfast we made our way to the Cathedral City of Ely for some free time before our onward journey back to Grove Green.

Our thanks to Elaine for organising this super break.
Our heartfelt commiserations to our members who have not seen this show and did not join us on this particular break.
---
8th December 2022 KentARA Christmas Concert
Several of our members attended the KentARA Christmas Concert at Ditton Community Centre where about 200 or so ARA members from across the county enjoyed an afternoon of music with tea & coffee available during the interval.
---
6th December 2022 Tenpin Bowling
Our regular meetup of Bowlers was attended by 14 Bowlers and 2 Supporters.
Top scores were kept in the family:
Ladies: Pauline Lock.... 120
Men: Grahame Lock.....133
---
5th December 2022 Annual Christmas Lunch
Once again we had our Christmas lunch where 80 members enjoyed a three course festive meal followed by mince pies tea & coffee at the Weald of Kent Hotel & Golf Club. The lunch was as usual up to it high standard and once the meal was over many members circulated and chatted with each other that made it a very nice social event.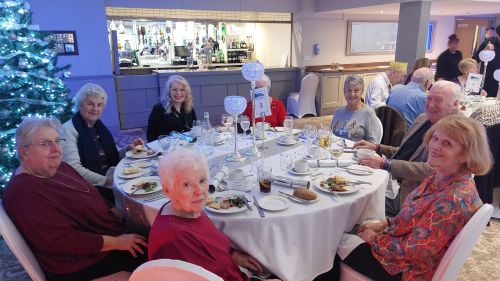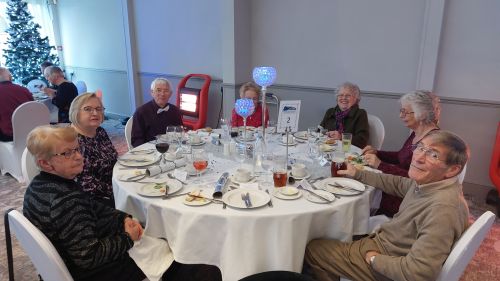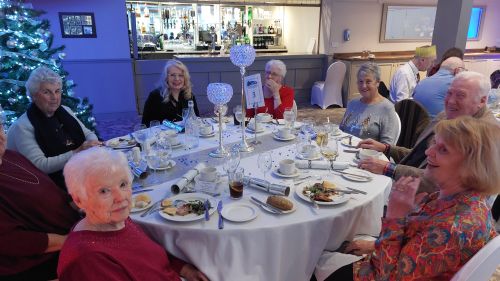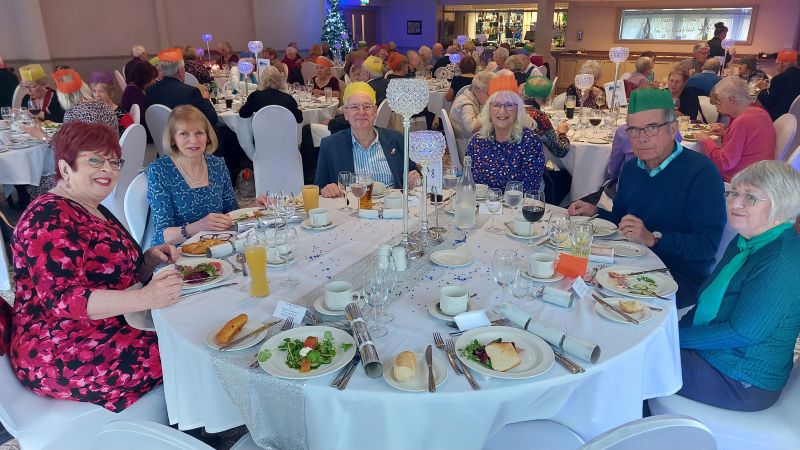 ---
1st December 2022 Social Meeting: Reindeer Racing
Almost 50 members attend and took part in our popular annual Reindeer Racing Meeting with 4 races and many betting on the various named mounts Dodgy Dave, Delicious Dai, Bonking Bob, Jingling James, Randy Ron to name but a few.
Members bet on their favourite Reindeer and some left the afternoon with more than they arrived with, all in all an enjoyable afternoon was had by all.
---
28th November 2022 Mamma-Mia Christmas Party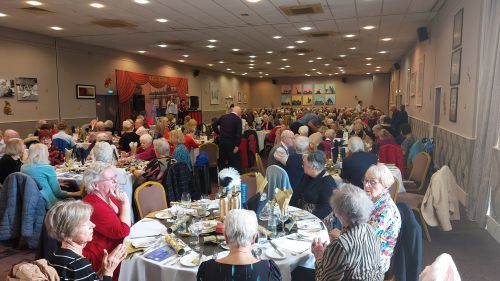 Our first Christmas event was a fabulous day at the Great Danes Hotel, where we arrived at 10:15AM were shown to our tables and served coffee & mince pies.
Around 50 of our members joined several other ARA's, WI's and various other groups making a total of around 200 people.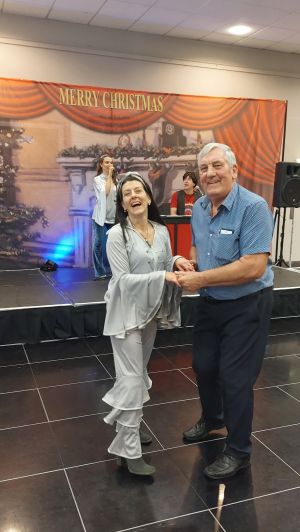 Our Chairman managed to secure a dance with the MC tripping the light fantastic!
With the talented musical duo performing the music in the background.
We then had a musical quiz before enjoying a fine 3 course Christmas lunch.

Once lunch was over dancing continued through the afternoon until the until the end of the party at about 3:15pm when we made our way home completely Abba'd.
A great day was had by all, looking forward to 2023 when "The Christmas Beatles Show Party Lunch" will take place commencing Monday 20th November although we are booked in for Tuesday 21st November 2023.
---
21st November 2022 Main Meeting History of the Paddle Steamer Medway Queen.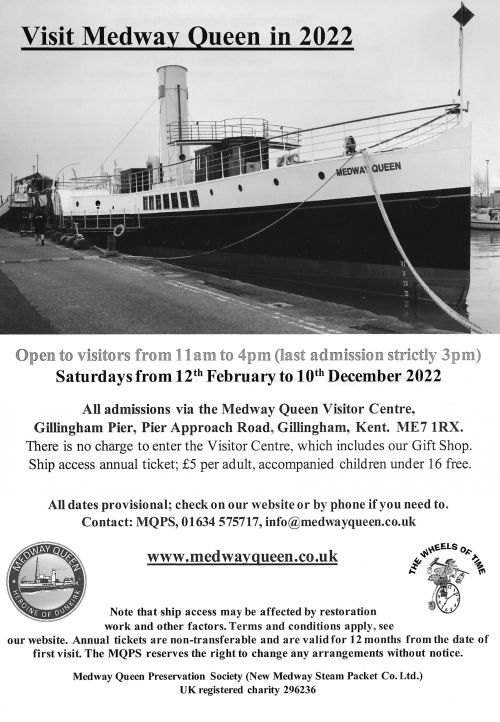 Mark & Pam Bathhurst from the Medway Queen Preservation Society gave us a very professional presentation of the History of the PS Medway Queen.
Covering many aspects of its historical existence from build to its wartime role as a mine sweeper and one of the many "Little Ships" that took part in the Dunkirk Evacuation Operation Dynamo rescuing over 7,000 men.
Onto the present day where a long term preservation project is underway.
For more information follow this link:
---
3rd November 2022 Social Meeting:
Social Meeting: The KCC Road Behavioural Insights Team will be giving a video presentation to the needs of the mature driver.
---
3rd November 2022 KentARA Tenpin Bowling Tournament

BeARA entered in two teams into the KentARA Tournament (one men's and one ladies).

The Men's competition consisted of 11 teams: The winners were StARA (St Mary's Island ARA) who scored 1148; we BeARA came sixth with 978.
The Ladies competition consisted of 10 teams: The winners IstARA (Istead Rise ARA) scored 1188; we BeARA came fourth with 945 BUT second only scored 948 and third 946 so our Ladies team was only 3 points short of being runners up.
Our ladies (Pauline Lock, Sue Humphrey, and Julie Wickens) did us proud. Us men were not so good.
Once again our thanks to Dave & Vivien Flexman for organising the BeARA teams and transport to the event.
---
.
1st November 2022 Tenpin Bowling
A number of our regular bowlers attended our November meet up and the top scores were as follows:
Ladies:
Pauline Lock......101
Men:
Paul Jenkins.......157
---

27th October 2022 Outing to see Les-Misérables at Canterbury's Marlow Theatre

Our long awaited coach trip to see the world renowned musical Les-Misérables, this was originally booked in 2019 for a 2020 show but like almost all other activities in 2020 this was postponed to 2021 and again postponed to October 2022 at last we were able to attend this show. It seems everyone that attended including some new members enjoyed the show and some free time in Canterbury to enjoy the autumn sunshine where many had a pre show lunch.
.
---
24th October 2022 New Age Kurling
This was our 2nd meetup of out newly formed New Age Kurling Group and a good attendance was most attendee's had at least 2 games with about 5 ends each.
.
---
17th October 2022 Main Meeting: Mike Grillo: "Two Kinds of Teardrops"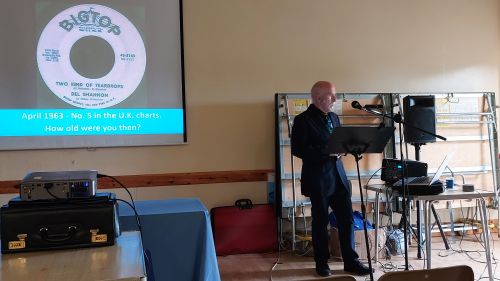 91 members attended our October 2022 Main Meeting where Mike Grillo gave a most interesting presentation about the lives of Del Shannon and Roy Orbison complete with a selection of examples of their various hit songs.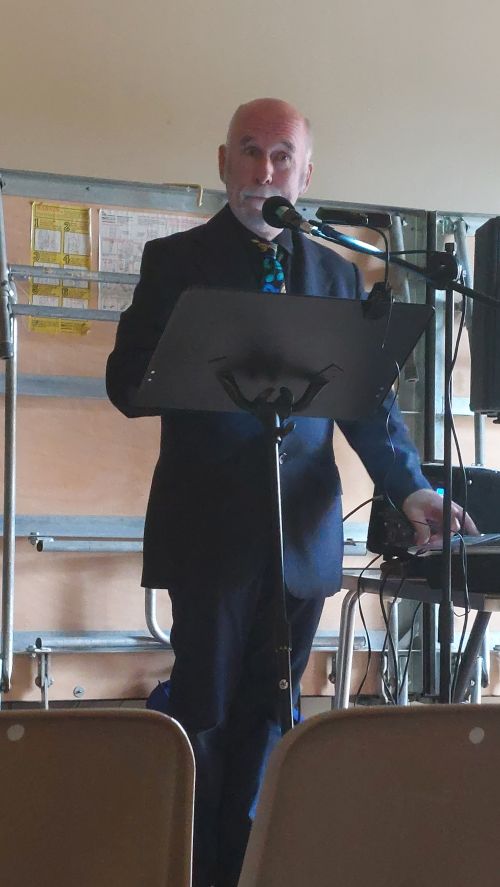 ---
10th October 2022 New Age Kurling
Our first New Age Group got off to a good start with over 30 members enjoying the games
---
6th October 2022 Social Meeting: General Knowledge Quiz
Awaiting Report
---
4th October 2022 Tenpin Bowling
4 lanes were populated by 3 members for each lane with 2 supporters.
Top scores today were:
Ladies: Julie Wickens 109
Men: Graham Morecraft 136
---
3rd October 2022 Bi-Monthly Walk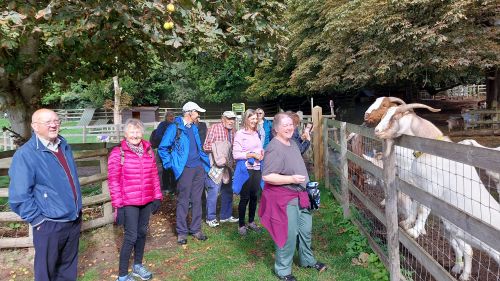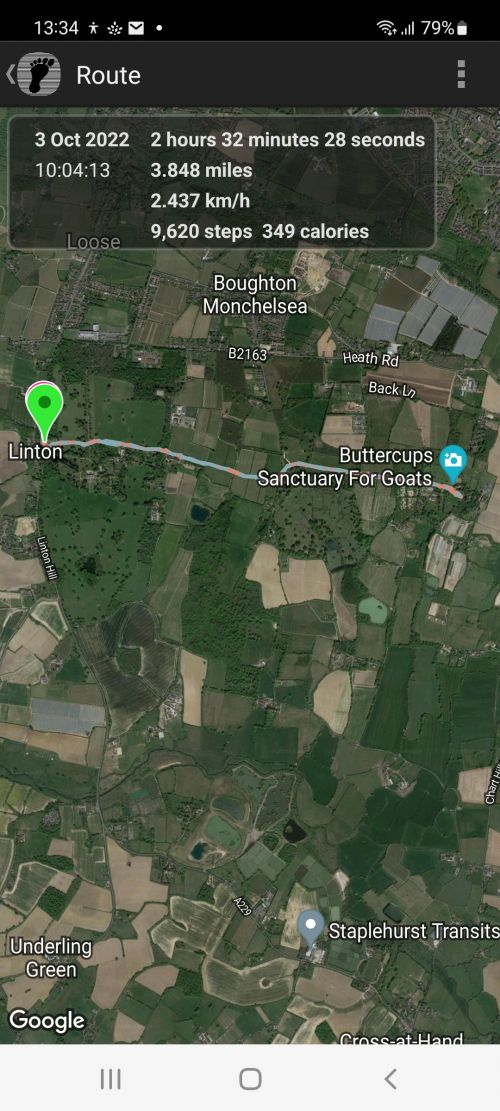 16 members participated in our regular bi-monthly walk ably organised by David & Janet Leech.
.
Parking in Linton Church carpark we took a largely level walk along the Downs to the well known "Buttercups Sanctuary For Goats" where we chatted to the residents and took a mid walk coffee break before retracing our steps to the starting point.
.
Some of the walkers then adjourned to the Toby Carvery at Langley for a well deserved lunch.
.
Once again our thanks to David & Janet for organising this enjoyable activity.
.
---
26th September 2022 Main Meeting (1 week late due to State Funeral of Queen Elizabeth II)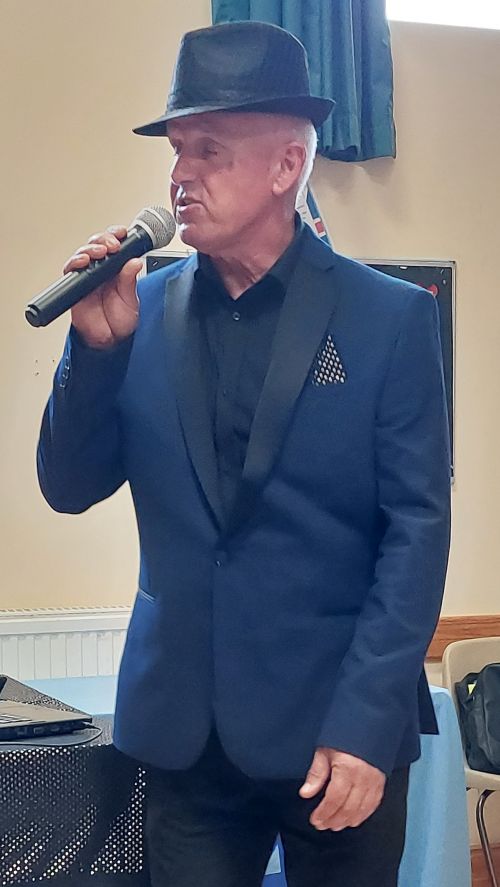 Our Main Meeting today was not as advertised following a change of date due to a bank holiday for the state funeral.
.
Our original speaker was unable to change date due to a prior booking, after much effort by our Chairman he managed to book at the last minute Steve Valentine, an excellent singer who sang many songs from the Fifties and Sixties.
.
Our sincere thanks to Steve Valentine for stepping in at the very last minute.
---
14th September 2022 - 21st September 2022 KentARA Cruise to the Norwegian Fjords.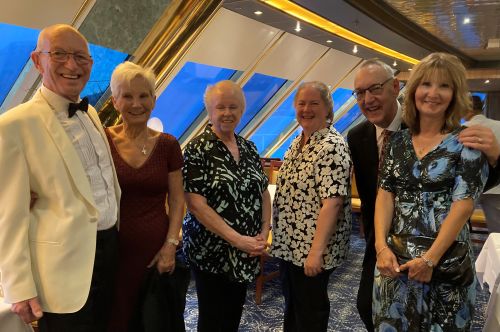 Six of our members joined the KentARA Cruise postponed twice due to Covid but took place in the end.
Do you recognise your fellow members?
The 6 BeARA members on the recent cruise to Norway on the Cruise ship Bolette. In case you don't recognise them all togged up Left to Right, Bob & Barbara Abnett, Pat Pither, Lee Scam, John & Beverley Sergeant
---
Monday 12th September 2022 Segway Twilight Tour at Leeds Castle.
.
10 members enjoyed a lovely evening exploring the vast grounds of this famous castle on our Segway's on September 12th.
---
Tuesday 6th September 2022 Tenpin Bowling
14 members enjoyed our monthly meetup at Hollywood Bowl, Lockmeadow for our regular 3 games. Top scores were:
Ladies: Pauline Lock 108
Men: Dave Flexman 128
---

Thursday 1st September 2022 Social Outing Mystery Tour to ????????????

Our Mystery Tour was our Social Outing on Thursday 1st September, when we all enjoyed friendship, togetherness, and chatter, attending Rye Market, Hastings and Planters on the A21 for a lovely strawberry cream tea.

Add a quiz, plenty of "stories" and one member, who was celebrating her birthday, even took a dip in the sea at Hastings, not in her birthday suit, I might add.
---
Thursday 25th August 2022 KentARA Short Mat Bowls Tournament
KentARA Short Mat Bowls Tournament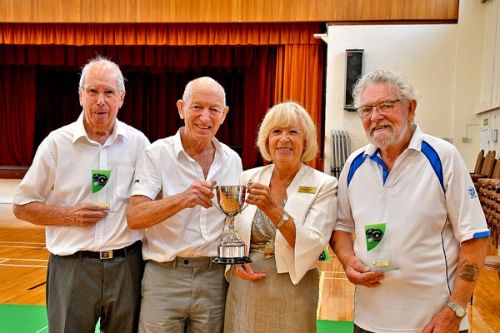 Image Curtesy of Graham Pover
Held at Ditton Community Centre on Thursday 25th August 2022
Congratulations to David Archer, Gordon Hodges and their skip, Bob Abnett,
After a fiercely fought battle at The KentARA Short Mat Bowls Tournament at Ditton, they came away as "KentARA Champions".
They won all their games, except one, where they drew, beating JARA, Joydens Wood Active retirement club, in the semi final. And HADARA. Hartley and District Active retirement Club in the final.
Each player in the winning and runners up teams were presented with their own trophy, with the winners receiving The John Hardiman Cup, from Joan Rhodes, Chair of KentARA.
The Tournament was hosted by us, and bought about our second win, after winning in 2018
---
Monday 23rd August 2022 Bi-Monthly Walk with David & Janet Leech


15 members enjoyed our Bi-Monthly walk with David & Janet Leach starting at The Kings Head PH in Sutton Valence walking a circular walk through fields & woodlands taking in the phenomenal views en-route. Returning to the Kings Head where most walkers adjourned for a well deserved lunch. Our thanks again to David & Janet.
.
---
Monday 15th August 2022 Main Meeting. Featuring Lucy Allen: My Life as a Professional Stuntwoman
Today we were privileged to at last welcome Lucy Allen to give her presentation of " Her Life as a Professional Stuntwoman" having been scheduled in for 2020 when naturally Covid put a stop to everything, Late in 2021 she unfortunately had to cancel due to work commitments.
.

We were first shown an impressive short film of Lucy in action, with scenes showing her falling down stairs, being thrown into fires, Jumping off the Titanic, as well as jumping off Cliffs and Buildings.
.
She then explained how she came to enter the world of being a Stunt performer and showed some items of PPE mainly a selection of body padding to cushion the blows.
.
She has met, worked with and doubled for many famous actors in over 30 years in this profession.
Thank you Lucy for a really interesting insight into your world.
Scroll down for some incredible pictures of her in action.
Image curtesy of Peter Humphrey.
Images to the right shows Lucy during her time in the circus.
Image below shows Lucy doubling for an actor in a fall from building.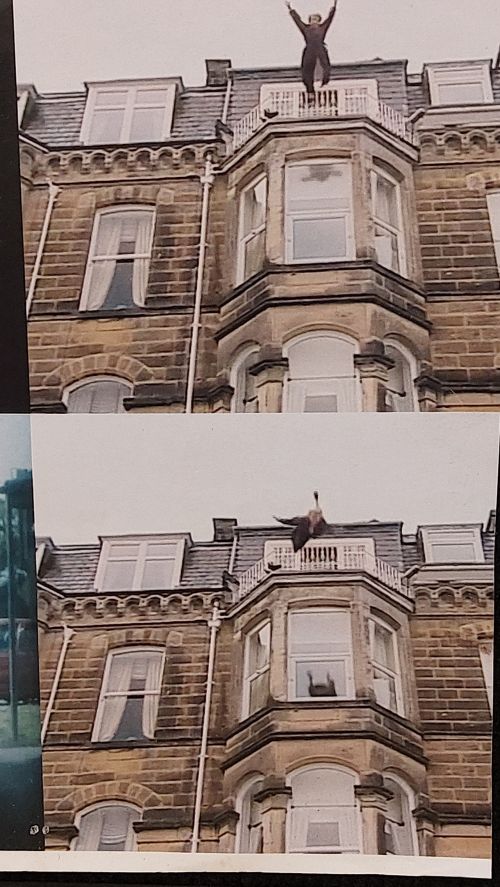 Images curtesy of Lucy Allen


Image to right shows another take jumping off a cliff, Lucy is in blue going head first and landing on a pile of cardboard boxes.
.

---
.
Thursday 4th August 2022 Social Meeting: Kurling Afternoon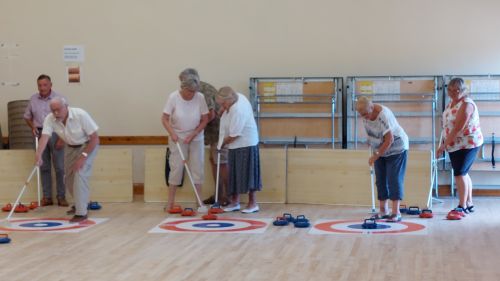 Our August Social afternoon was enjoyed by 44 of our members using our recently acquired three sets of New Age Kurling equipment.
The afternoon's competition was won by Ron Lawrence.
We are looking into forming a regular Kurling group as a regular activity.
.
.
---
Tuesday 18th July 2022 Main Meeting Featuring: Peter Griffiths Sextant - Satnavs.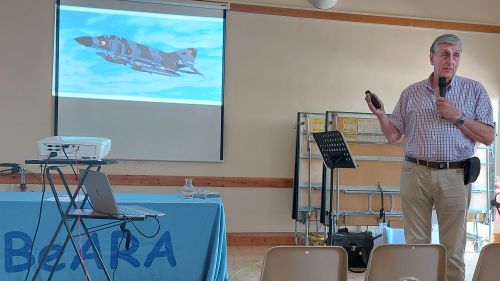 On one of the hottest days the UK has ever recorded 37oC in the shade, our long booked speaker cancelled at short notice. Our Chairman commendably leapt into action and managed to persuade Peter Griffiths to step in at the eleventh hour to fill the void.
Peter gave a fascinating account of his life and career in aviation, being weaned on single engine trainer aircraft and taking the large step into the world of commercial airliners in the 1960s, such as the Boeing 707 and Vickers VC10 along with describing navigational principals using a prismatic sextant that was used by inserting through a "hole" in the cockpit roof to measure the position of the stars. He also gave accounts of landing at some of the worlds most challenging airports. Our sincere thanks to Peter for stepping in at the last minute.
Looking forward to part 2 of his presentation at a later date.
---
Thursday 14th July 2022
A most enjoyable night out was had by 8 members To see Carpenters tribute act at Orchard theatre Dartford.
---
Tuesday 5th July 2022 Tenpin Bowling.
Our regular Tenpin Bowling Meetup took place where the top scoring members above 100 were:
Ladies:
Julie Wickens 122
Men:
Dave Flexman 145
.
---
Monday 20th June 2022 Main Meeting: Featuring Alan Haines.
Our speaker today was Alan Haines who gave us his hilarious take on the generation born between 1946 & 1966 entitled "The Baby Boomer Years Nostalgia show" who ably entertained us, for more information about Alan Haines visit his website by Clicking Here.


---
Thursday 16th June 2022 Thames Cruise and Afternoon Tea near Windsor

43 of our members travelled to Windsor Leisure Centre by a Brookline Executive Coach where we boarded our boat "The Georgian" where we all headed for the top deck as we were fortunate enough to have a beautiful sunny day.


While cruising we observed DUKW's & Swans swimming in the Thames.
Some of our party about to tuck in to the delicious Afternoon Tea that had been freshly prepared on board prior to our arrival by the crew of The Georgian, owned by The Windsor and Maidenhead Boat Company
Back on Top Deck enjoying the Sun & Scenery.
Returning and passing our disembarkation quay we headed towards Windsor where we had a photo opportunity of Windsor Castle as a backdrop.
Screenshot shows route taken with Green balloon showing Start & Finishing point. Windsor Castle on Extreme RH side of image with the famous rowing venue Dorney Lake in the centre of the image.

As you can see we cruised about 10 miles in total (ignore Step count).
Our thanks to Bob & Barbara for organising this enjoyable outing.
.
---
Tuesday 7th June 2022 Tenpin Bowling
9 Bowlers and 1 supporter attended our monthly meet up, with top scores of:
Ladies:.. Sue Humphrey 105
Men:...... Graham Morecraft 150
.
---
2nd June 2022 The Queen's Platinum Jubilee Afternoon Tea
.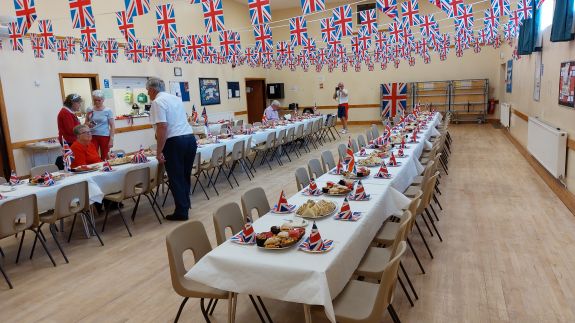 After much effort by several members of the committee and our Tea Team under supervision of the event organiser Diane Huddart the hall was finally ready to welcome our guests who were patiently waiting outside.

78 of our members had waited in a long queue for the doors to open at the magic hour to enter the venue and the festivities to commence.
It seems Ladies First was the order of the day!!!
Image curtesy of Paula Fulcher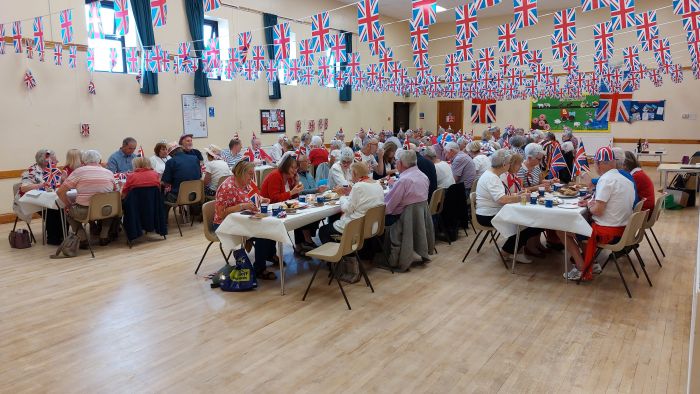 Once seated members of the committee and tea team served Tea & Coffee and the Afternoon Tea celebrations began.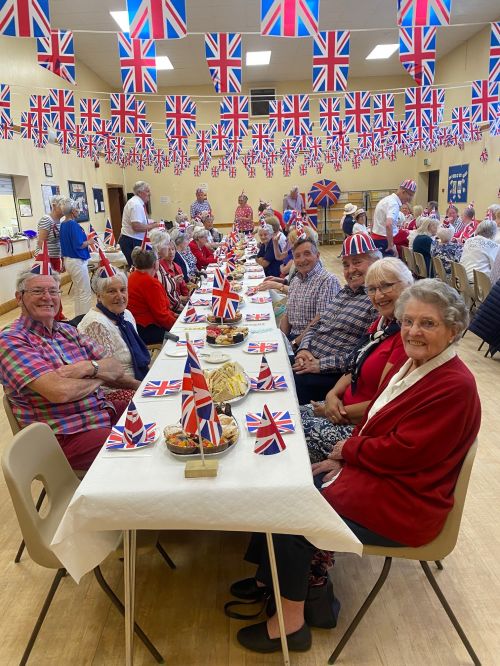 A selection of members about to tuck in to the food.
Image curtesy of Paula Fulcher




Paula with flag & cake.
Image curtesy of Paula Fulcher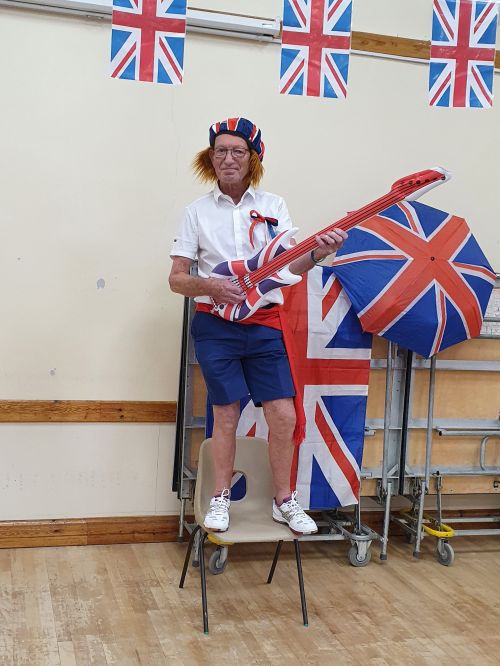 Our toast to the Queen was followed by the National Anthem (Brian May version) accompanied by our own B. May AKA Bob Abnett on the plastic guitar.

Image curtesy of Sue Humphrey


Our sincere thanks to Diane, the Tea Team, Bob, Barbara and other members of the committee who contributed to make this party the success it turned out to be.

.
---
Monday 30th May 2022 Bi-Monthly Walk with David & Janet Leech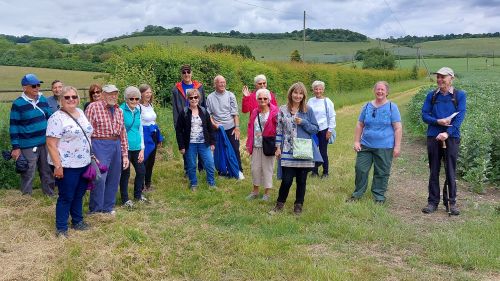 18 members took part in the May 2022 Bi-Monthly Walk where we walked almost 5 miles from the car park at Holy Cross Church in Bearsted through the Woodland Trust then out into the countryside at the foot of the North Downs venturing across fields and through woodlands in a figure of 8 route returning to the car park where some adjourned to the Fox & Goose for a well deserved lunch.
Our thanks to David & Janet for organising this most enjoyable walk.
---
Thursday 26th May 2022. Our outing to see "The Drifter's Girl" Musical in London.



Wow ! What a fantastic day out, with many new faces from DoARA, LenARA, SemARA, MaidARA and HeadARA. Joining us from Bearsted. BeARA.
Here are some of the comments made….Thankyou for a wonderful day out, Absolutely brilliant, Lovely coach, with a smooth ride to the venue and back, Even sweets handed out, with a bag for the wrappers ! Excellent seats in the front stalls of the theatre, Great singers, especially Beverley Knight, who was "The Drifter's Girl ". So many memories of their wonderful music, that we used to sing and dance to ! And above all, Dave's joke's and stories throughout the journey, kept us all smiling. Well Done, BeARA !!
.
It was so good to meet up with other like minded people from other Area 4 clubs, and so glad they all had a great day out with us. Dave.
---
Monday 16th May 2022 Main Meeting Featuring: Jason Allen "Kent's No. 1 Swing Singer"


93 members enjoyed the afternoon for our main meeting where Jason performed a wide selection of favourite songs from the fifties, sixties and seventies along with other popular songs from more recent decades.
Thank you Jason for a most enjoyable afternoon.
.
---

Tuesday 10th May 2022: Outing to The Dog & Duck PH at Plucks Gutter for Lunch & Entertainment.
.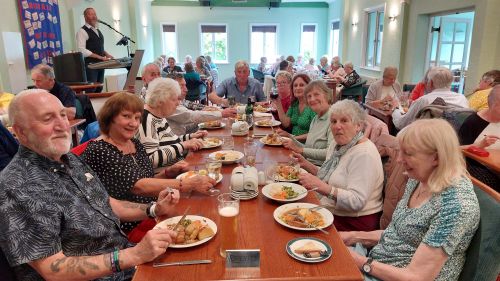 57 members enjoyed a fabulous coach outing for lunch & entertainment to the Dog & Duck Public House
We had a generous helping of Starter & Main Course ably served by the friendly staff, with superb entertainment provided by Nick Bosworth with his myriad of musical genres intermixed with his own brand of subtle humour.

His repertoire included background music while we ate our lunch to more upbeat selection for dancing.
He even played some traditional Irish music (River Dance) where our own Jean Butler (AKA Marilyn Harris) demonstrated her considerable Irish dancing skills.
Left & below are a few of the participants enjoying their lunch.
Our thanks to Dave Finch for organising this fabulous outing that was enjoyed by all. Please scroll down.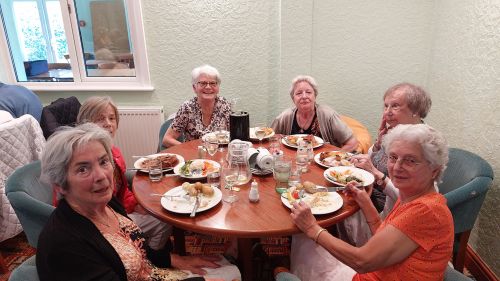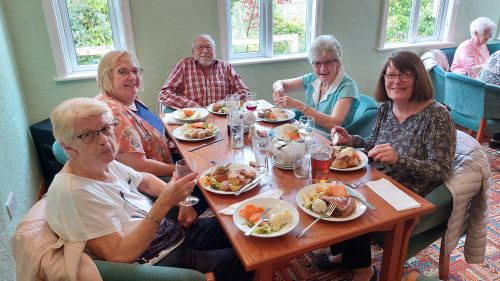 .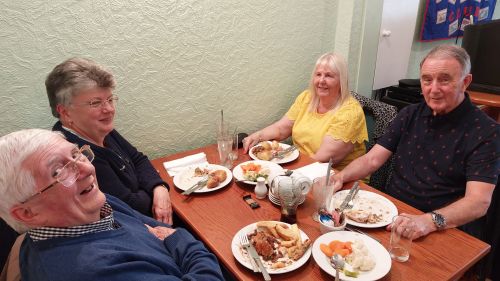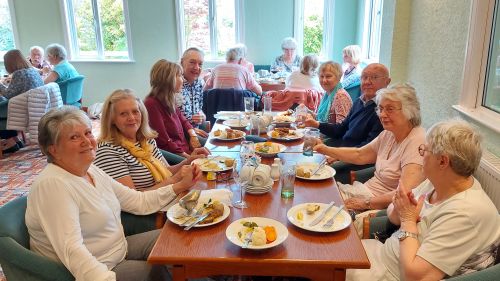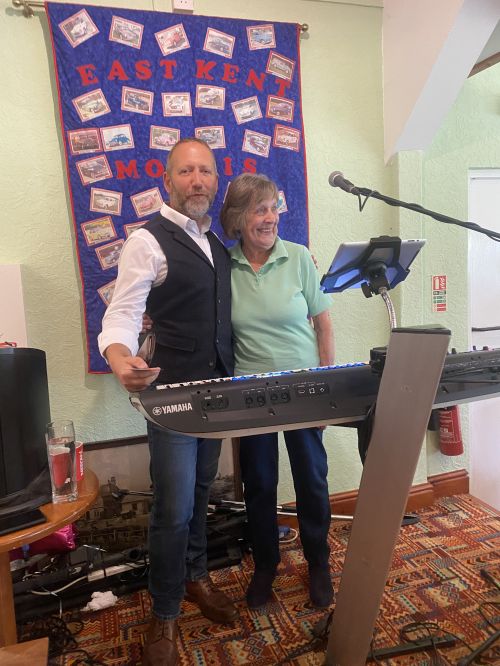 Nick with his newest groupie Val, perhaps to become a member of his fan club.
For more information about this entertainer follow this link to his website: Click Here.
.
---
Tuesday 3rd May 2022 Tenpin Bowling
14 members and 1 supporter attended our monthly meet up, with top scores of:
Ladies Julie Spencer 103
Julie is a new member & bowler and today was the only lady to attain the 100 threshold at which we record scores, well done Julie.
Men
Grahame Lock 130
.
---

Monday 25th April 2022 Main Meeting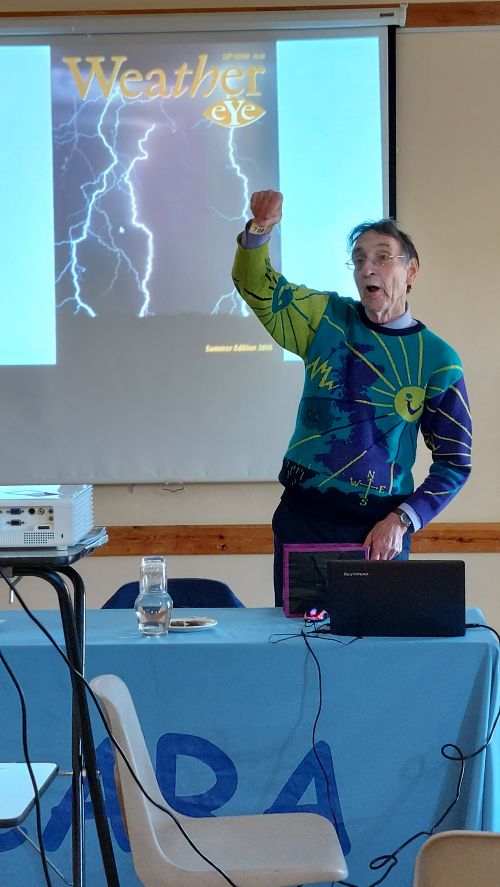 At our main meeting today Ian Currie the Weatherman provided 84 of our members with a most interesting account of the history of the weather patterns over many millennia along with tips for gardeners and how climate change is being accelerated by human activity.
.
His talk was entitled "Our Weather, Gales, Greenhouses &, Global Warming!" certainly provided us with cacophony of information relating to weather data he has accumulated over many decades.
.
Our thanks to Ian for sharing his phenomenal knowledge on all aspects of the weather.
.
.

---
Thursday 7th April 2022 Social Meeting "Play your Cards Right"
50 members attended the popular game of Play Your Cards Right where there were several teams of 2 who set their wits against other teams of 2 playing for prizes. Compared by our Chairman Dave Finch ably assisted by our dolly girls Paula & Beverley.
Overall a good time was enjoyed by all who attended.
---
Tuesday 5th April 2022 Tenpin Bowling
A small but dedicated group of 9 bowlers and 1 supporter participated in our monthly meet up, as the schools were on Easter Holidays the bowling ally was full to capacity with music, flashing lights that generated a party atmosphere. We had 4 ladies bowling who unfortunately did not attain the threshold score of 100 that we record, our top scoring man was Graham Morecraft with 135 closely followed by Grahame Lock with 134 and Peter Humphrey with 133.
.
---
Monday 28th March 2022 Bi-Monthly Walk
15 members enjoyed our Bi-Monthly walk from Harrietsham Church walking in a westerly direction towards Hollingbourne on a path parallel to the pilgrims way turning south to make a circular route back to the church via Harrietsham Station totalling between 3.5 and 4 miles. Several members then adjourned to The Windmill Pub in Hollingbourne for the customary pub lunch.
Our thanks to David & Janet for once again organising a most enjoyable day.
---

Monday 21st March 2022 Main Meeting

A good turn out of 86 members attended our March Main Meeting where we enjoyed an interesting talk by Jacqueline Aviolet entitled "I'm a Tulip What are You". it transpired many plant verities have names that incorporate the Christian names of people not only flowers but also many vegetables. Jacqueline bought with her an array of plants that were available to purchase and some were kindly donated by her as raffle prizes. For more information you can visit her website at https://rosiesgardenplants.com/
---
Thursday 3rd March 2022 Social Meeting; New Age Curling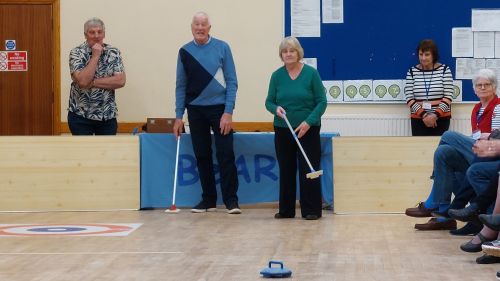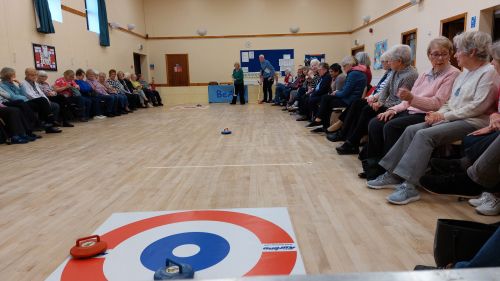 Our Social Meeting attracted almost 60 members some of whom volunteered to take part in a knock out game. With the heats taking part in the first half and the semi finals and final after the break for tea or coffee.
Our champion of the day was Diane Huddart (Left) who took away the prize. Well done Diane.
---
Monday 21st February 2022 Our AGM and talk on history of Bearsted Woodland Trust

78 Members present inc. 1 Associate member attended this month's Main Meeting that was our AGM and featured the History of Bearsted Woodland Trust by John Wale

.
---
Tuesday 1st March 2022 Tenpin Bowling

12 members enjoyed the March meetup where the top scores (over 100) were:
Ladies
Pauline Lock 111
Men
Peter Humphrey 143
---
Thursday 3rd February 2022 Ever Popular BINGO
49 members attended our social meeting the best since lockdown, some lucky winners left with more money than they arrived with.
---
Tuesday 1st February 2022 Tenpin Bowling

A good number of members arrive for our monthly meetup where the top scores (Over 100) were:
Ladies
Pauline Lock 122
Men
Paul Jenkins 147
.
---
Monday 31st January 2022 Bi-Monthly walk with David & Janet Leech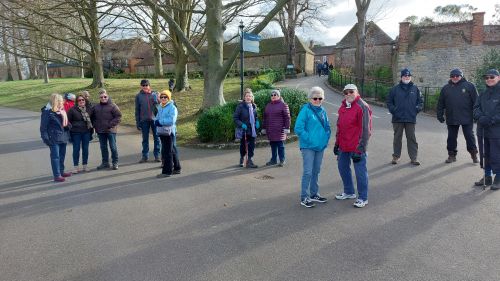 An enjoyable walk was enjoyed by about 15 members with David & Janet including through the grounds of Leeds Castle.
.
---
Monday 17 January 2022 Main Meeting:
Featuring Martyn Harrison "Les Miserables to Lion King – 36 years of British Musical Theatre":

74 members were in attendance at this meeting where as mentioned above our speaker described many of his experiences he encountered while acting and singing in the musical theatres in the UK he also sang many of the songs associated with the various musicals he has performed in for more information about Martyn Harrison Click Here
---

Thursday 6th January 2022 Social Meeting: Beetle Drive

A beetle drive was held for our members and was attended.by 33 members given the situation with the omicron variant of covid this was considered to be a good turnout.
---
Tuesday 3rd January 2022 Tenpin Bowling Cancelled due to Covid Omicron variant.